Some Day I May Find Honest Work
A Newspaper Humorist's Life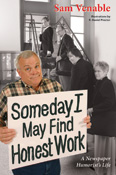 Author(s): Venable, Sam
Series:
Imprint: Univ Tennessee Press
Publication Date: 2007-09-30
Status: Active
Available in Paper: Price $19.95 | Buy Now
Tennessee humorist Sam Venable has been tickling funny bones in print for more than twenty-five years. Someday I May Find Honest Work is a collection of 125 of his columns, many of which originally appeared in the Knoxville News Sentinel. In these warm and witty pieces, Venable pokes good-natured fun at everything from fast food to government folly, from high-tech confusion to the perils of aging, from the eternal strife between the sexes to daily life in East Tennessee.
Four days a week, Venable chronicles life and all the strange and absurd things that go with it: the latest medical- scientific "advances," wacky warning labels, the complexities of modern living, and the enduring quest for lottery riches. Essays with titles such as "Doctor Feelgood's Diagnosis," "Crown Prince of Aggravated Stupidity," "The Sweet Taste of Tax Law," "One Mrs. is Quite Sufficient," "Hard to Hide from a Camo Sale," "Ah, to be Young and Dumb Again," and "A Respite from Respites" demonstrate the author's uncanny ability to find the humor in everyday events. With his lively commentary and quirky observations, Venable brings an uncommon perspective to common experiences.
Of course, he doesn't take himself too seriously, either. In his introduction "Clocking in at the Word Factory," he writes of the difficulties of creating a new column several times each week: the pressure of a deadline, the constant demand for creativity, the stress of facing a blank page that demands amusing words day in and day out. But even as he describes these trials and tribulations, Venable admits-with what you can be certain is a big grin-that it sure beats workin' for a living.
Sam Venable is a humor columnist for the Knoxville News Sentinel. The winner of numerous writing awards, he is the author of ten books, including I'd Rather be Ugly than Stuppid, From Ridgetops to Riverbottoms: A Celebration of the Outdoor Life in Tennessee, and You Gotta Laugh to Keep from Cryin': A Baby Boomer Contemplates Life beyond Fifty.