Small Wars
Low-Intensity Threats and the American Response since Vietnam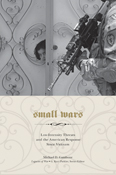 "Small Wars is unique in its complexity and breadth. This book would be of great interest to both military and diplomatic historians, and those that teach Recent America." —Nancy Gentile Ford, author of Issues of War and Peace
Today, conventional fighting waged by massed, industrial armies is nearly extinct as a viable means of warfare, replaced by a broad and diverse array of conflicts that consume the modern American military. Fought in sprawling urban areas of the underdeveloped world or in desolate border regions where ethnicity and tradition reign, these "small wars" involve a vast and intricate network of operations dedicated to attacking the cultural, political, financial, and military layers that surround America's new enemies. In this intriguing study, Michael Gambone explores America's approach to small wars since Vietnam, providing a fascinating analysis of the basic goals, missions, conduct, and consequences of modern American conflict.
Going beyond a simple comparison of Vietnam to the current wars in Afghanistan and Iraq, Gambone thoroughly tracks the continuous evolution of U.S. intervention between these events, revealing a dramatic shift in the role of the American military to covert operations that require fluidity, creativity, and ingenuity. He examines in detail the many different forms of military intervention that America has taken in the last forty years, including actions in Central America in the 1980s, the first Gulf War, airstrikes in Kosovo in the 1990s, and the war on terror, as well as the Iran-Contra affair, the drug war in Columbia, and the role of private military contractors such as Blackwater. After the Cold War, Gambone shows, American military missions served a wide variety of tasks—peacekeeping, humanitarian assistance, counterterrorism—that significantly departed from conventional missions, a trend that continued and expanded after 9/11.
By exploring the history and assessing the effectiveness of the small wars fought since Vietnam, Gambone reveals the importance of these smaller actions in modern military planning and operations and clearly traces the development of American warfare from the massive military machine of World War II into a complex hybrid of traditional and innovative techniques.
MICHAEL GAMBONE, a professor of history at Kutztown University in Pennsylvania, is the author of The Greatest Generation Comes Home: The Veteran in American Society and editor of Documents of American Diplomacy: From the American Revolution to the Present.