Sharpshooter
A Novel of the Civil War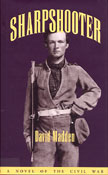 A gripping and thought-provoking work that is unlike any Civil War novel previously written, Sharpshooter takes us into the mind of one of the war's veterans as he attempts, years after the conflict, to reconstruct his experiences and to find some measure of meaning in them.
A child of the divided East Tennessee mountain region, Willis Carr left home at age thirteen to follow his father and brothers on a bridge-burning mission for the Union cause. Imprisoned at Knoxville, he agreed to join the Confederate army to avoid being hanged and became a sharpshooter serving under General Longstreet. He survived several major battles, including Gettysburg, and eventually found himself guarding prisoners at the infamous Andersonville stockade, where a former slave taught him to read.
After the war, haunted by his memories, Carr writes down his story, revisits the battlefields, studies photographs and drawings, listens to other veterans as they tell their stories, and pores over memoirs and other books. Above all, he embues whatever he hears, sees, and reads with his emotions, his imagination, and his intellect. Yet, even as an old man nearing death, he still feels that he has somehow missed the war, that something essential about it has eluded him. Finally, in a searing moment of personal revelation, a particular memory, long suppressed, rises to the surface of Carr's consciousness and draws his long quest to a poignant close.
A compelling work of fiction from a writer who is both a gifted novelist and a distinguished student of the Civil War, David Madden's Sharpshooter invites us to see this signal episode in American history in a new way—to grasp its facts, to imagine what facts cannot convey, and to make the war our own.
The Author: David Madden, currently director of the U.S. Civil War Center at Louisiana State University, has won high praise for his previous novels and short-story collections, which include The New Orleans of Possibilities, Pleasure Dome, On the Big Wind, The Suicide's Wife, Bijou, Cassandra Singing, and The Beautiful Greed. He has also written and edited numerous books of criticism and has taught creative writing at various colleges and universities. He is a native of Knoxville, Tennessee.
Praise for the Fiction of David Madden—
On Sharpshooter:
"This unique fictionalized memoir of an East Tennessee boy from a Union family who went to war as a Confederate sharpshooter offers provocative new insights on the Civil War. Focusing on the battle of Gettysburg, the siege of Knoxville, Andersonville prison, and the sinking of the Sultana, it provides a good read to those interested in America's fratricidal conflict."—James M. McPherson, Pulitzer Prize-winning author of Battle Cry of Freedom
On The Suicide's Wife:
"One of the most enthralling books I have read in some time. . . . The wisdom of a good novel does not lie in in the passages of 'philosophy' that a writer may contrive but rather in the selection and placement of events. David Madden is very wise indeed."—Edmund White, Washington Post Book World
On Bijou:
"Bijou is really quite extraordinary, an original, and I read it with increasing absorption. I don't recall reading a more honest account of adolescence in America—a triumphant, funny, brutal story of growing up. . . . a triumph of love and art."—Walker Percy
On The New Orleans of Possibilities:
"Madden experiments here with a number of fictive perspectives, but he keeps an unwavering eye on life and death, and sometimes the death-in-life. . . . The title story deserves to be anthologized in everyone's best stories of the decade."—Alan Cheuse, Los Angeles Herald Examiner