Sanctified Trial
The Diary of Eliza Rhea Anderson Fain, a Confederate Woman in East Tennessee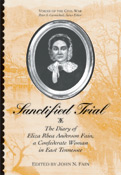 Author(s): Fain, John
Series: Voices of the Civil War
Imprint: Univ Tennessee Press
Publication Date: 2004-09-30
Status: Active
Available in Hardcover - Cloth: Price $42.00 | Buy Now
Sanctified Trial is the riveting Civil War diary of a Confederate woman of strong religious faith and equally strong proslavery convictions. Eliza Rhea Anderson Fain (b. 1816), who lived in Rogersville, Tennessee, kept diaries from shortly after her marriage to Richard Gammon Fain in 1833 until her death in 1892. John N. Fain has prepared this edition of the portion of these diaries that focuses on the war years.
Her husband and five of her six sons fought on the side of the South in a sharply divided East Tennessee. With a farm that housed nine slaves, Eliza Fain was no reluctant Confederate but a consistent supporter of secession, while many of her neighbors were equally ardent Unionists. A deep religious devotion, exemplifying that of many nineteenth-century Presbyterians, runs throughout her writing. She demonstrates her conviction that a leading cause of the war was Northern misinterpretation of the Bible with respect to slavery. This diary is distinctive for its account of increasing clashes with Unionist "bushwhackers" and for its graphic description of the atrocities on both sides. The Civil War surged around Rogersville, near the Fain farm, with alternating occupation by both North and South.
When her farm was looted in 1865, Fain attempted to defend her family and home from depredations by both Yankee troops and guerillas.
The entries from the period of Reconstruction reveal Fain's concerns about perceived threats from poor whites and freed slaves. Overall, however, this busy mother focuses throughout on the private life of her family, and her writings tell us much about the challenges of everyday life almost a century and a half ago.
John N. Fain is Van Vleet Professor in the Department of Molecular Sciences at the University of Tennessee Health Science Center. Eliza Rhea Anderson Fain was a distant relative.