Run in the Fam'ly
A Novel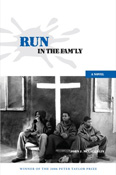 Author(s): Author John J. McLaughlin
Series: Peter Taylor Prize for the Novel
Imprint: Univ Tennessee Press
Publication Date: 2007-11-15
Status: Out of Print Cancel
Available in Hardcover - Cloth: Price $Array | Buy Now
Available in Paper: Price $Array | Buy Now
Available in Kindle: Price $Array | Buy Now
Available in PDF: Price $Array | Buy Now
"Run in the Fam'ly is an emotionally detailed exploration of a level of American society rarely seen in American fiction. It focuses on the desperate lower class people called "inner city", dramatized by Jake Robertson, his family, and his buddies. Mr. McLaughlin employs his mastery of vernacular speech, his understanding of the street cultures of Chicago and Oakland, and his deeply human understanding, to explore the troubled and often violent bonds which hold together a black family. Run in the Fam'ly is an exceptional work of fiction."
-James Alan McPherson, author of Elbow Room, winner of the Pulitzer Prize
"Run in the Fam'ly proves that John J. McLaughlin is a writer of exceptional talent and enormous vision. His themes are important, his characters are convincing as well as affecting, and his capture of voice dazzling. His writing is infused with unsentimental compassion. I was very moved by this ambitious novel, a marvelous debut."
-Bharati Mukherjee, author of The Middleman, winner of the National Book Critics' Circle Award
"John J. McLaughlin writes with great heart, humanity, and fierce compassion. Run in the Fam'ly is a sensitive and probing look at family and poverty, an ambitious debut novel that echoes Steinbeck's The Grapes of Wrath in its social consciousness, empathy, and exploration of the bedrock that binds us beneath the chasms of circumstance."
-Alexander Parsons, author of Leaving Disneyland, winner of the AWP Novel Award
In the traditions of Ralph Ellison's Invisible Man and William Styron's Confessions of Nat Turner comes a bold debut novel by a striking new voice in American literature. Set in the Flatlands of Oakland, over the Memorial Day weekend at the end of the Reagan-Bush, Sr. era, Run in the Fam'ly is a gripping tale of struggle, faith, and redemption.
Jake Robertson, a young Black man snared in the welfare-to-work rut, longs to make a better way for his family. Piecing together minimum-wage jobs and drawing—illegally— on public assistance simply to make ends meet, he hopes against hope for the chance to pull his girlfriend and asthmatic son out of grinding poverty. Upon his father's release from prison, he is tempted with a crime that could solve his economic woes, but which he fears may fate him to the same life as his father—a man whose past is dark indeed, and about whom Jake has yet to learn one deep, terrible secret.
Narrated in a voice that captures both the raw edginess of the street and the complex rhythms of jazz, Run in the Fam'ly is a stunning work of literary ventriloquism and social analysis. Richly-detailed and filled with vivid characterizations, it plumbs the dark, mysterious depths of the city and the soul, recalling the novels of Dickens, Zola, and Baldwin. It is a father-son story for our time, a riveting human drama that will leave readers, on the book's final page, both heartbroken and hopeful.
John J. McLaughlin was born in Texas, and raised in Virginia and Washington, DC, where he was educated in Catholic schools. He is a graduate of the University of Iowa Writers' Workshop, and the University of Virginia. For many years he worked in direct service to homeless and incarcerated individuals in Los Angeles and Seattle. His writings have appeared in The Washington Post, National Catholic Reporter, America, and Hunger Mountain, and he is the recipient of a Wagenheim Prize for his short fiction. He lives with his wife and children in Seattle, where he directs Education Across Borders, a non-profit organization that serves indigent communities in the Dominican Republic. Visit his website at http://www.johnjmclaughlin.net/