Rock-Elephant
A Story of Friendship and Fishing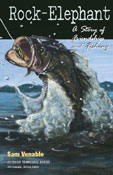 Author(s): Venable, Sam
Series:
Imprint: Univ Tennessee Press
Publication Date: 2002-03-15
Status: Active
Available in Paper: Price $14.95 | Buy Now
Two years after Sam Venable became the outdoor editor for the Knoxville News-Sentinel, he began receiving photographs of fish marked with only a phone number and the mysterious words "top-water Hubbard." Curious, Venable called the number and reached Ray Hubbard, a lay preacher, sewing machine repairman, and top-notch bass fisherman. Thus began an extraordinary twenty-seven-year friendship between two men who had little in common but a serious love of fishing and the outdoors.
Venable wrote a story about Hubbard for the newspaper and began joining him for more fishing trips. Armed with unusual homemade lures and a friendly smile, Hubbard taught Venable the art of buzzbaiting, the joys of fishing pungent "slop holes," and the secrets of a bass-catching technique Hubbard called "mesmerizing." Soon the two men were subjecting one another to practical jokes and merciless teasing, but according to Venable, attempting to best his buddy was "like trying to argue with the captain of an international championship debating team." They also developed an intricate verbal shorthand for the launch ramps, restaurants, and fishing spots they encountered. Venable soon discovered that the upstanding reverend was not averse to telling an occasional white lie, especially if it protected a prized location or coveted angling secret.
Over the years, the size of their catches ceased to matter. Hubbard, a straitlaced country preacher, and Venable, a veteran journalist fluent in the language of the newsroom, simply enjoyed each other's company, overcoming differences in age, educational background, and vocational calling. (It was Hubbard who continually suggested that Venable  say "rock-elephant" in place of saltier expressions.) What they experienced together, Venable believes, was best understood by Henry David Thoreau, who observed that "many men go fishing all of their lives without knowing that it is not fish they are after."
The Author: Sam Venable is an award-winning columnist for the Knoxville News-Sentinel and a contributor to such publications as Outdoor Life, Sports Afield, and Waterfowler's World. His books include Mountain Hands: A Portrait of Southern Appalachia and From Ridgetops to Riverbottoms: Celebrating the Outdoor Life in Tennessee.