Robert Penn Warren's Circus Aesthetic and the Southern Renaissance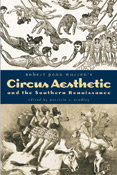 Author(s): Bradley, Patricia L.
Series:
Imprint: Univ Tennessee Press
Publication Date: 2004-09-17
Status: Active
Available in Hardcover - Cloth: Price $28.00 | Buy Now
The popularity of the circus in the United States reached its zenith in the early 1900s; as the century progressed, the circus gradually came to reflect traditional American values. Observing the growing conservatism of the circus during this period, Robert Penn Warren and other authors of the Southern Renaissance found it complemented their representations of both the mythic Old South and the cultural stagnation resulting from allegiance to it, especially in light of social and moral imperatives to adapt to the New South.
In this book, Patricia L. Bradley analyzes the extent to which Warren's 1947 novella "The Circus in the Attic" and its use of the circus trope establishes a critical matrix for interpreting his fiction, poetry, essays, and literary criticism. She then goes on to examine the ways in which authors such as William Faulkner, Thomas Wolfe, Katherine Anne Porter, Caroline Gordon, Eudora Welty, and Ralph Ellison also use the metaphor alternately to mourn and to celebrate changes in both the tenor of the South and the vehicle of the carnival. Even contemporary heirs to the Southern Renaissance, such as Toni Morrison, use the circus trope to similar effect.
Robert Penn Warren's Circus Aesthetic and the Southern Renaissance aligns Warren's work with that of other authors of the Southern Renaissance and examines intertextuality among them. Further, it establishes "The Circus in the Attic"—a short, teachable Warren piece—as central to his canon. Finally, this book adroitly reveals the expressive role of the circus in southern history and culture in the first half of the twentieth century.
Patricia L. Bradley is assistant professor of English at Middle Tennessee State University. Her articles have appeared in the Companion to Southern Literature, Nathaniel Hawthorne Review, Early American Literature, and other publications.
"A thorough, thoughtful, well-informed, and beautifully written examination of the circus theme in Robert Penn Warren's fiction and in the fiction of the Southern Renaissance generally."—John Burt, Brandeis University