Rights for a Season
The Politics of Race, Class, and Gender in Richmond, Virginia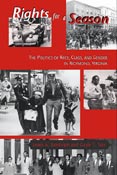 Author(s): Randolph, Lewis A., and Gayle T. Tate
Series:
Imprint: Univ Tennessee Press
Publication Date: 2003-04-26
Status: Active
Available in Hardcover - Cloth: Price $38.00 | Buy Now
The struggle for black empowerment in Richmond, Virginia, neither began nor ended with the civil rights movement. In Rights for a Season, Lewis A. Randolph and Gayle T. Tate explore the many facets and stages of black political mobilization in Richmond, tracing the rise and decline of black political power in the city. They demonstrate the centrality of race, class, and gender dynamics as determining factors in the evolution of Richmond's political landscape.
Focusing on the social and political forces that shaped the civil rights movement in Richmond, Randolph and Tate chart the transformation in the black community's response as it moved from resistance to mobilization and from protest politics to electoral politics. At the heart of the book is the story of the historic election of a black-majority city council in 1977 and its subsequent collapse in 1982. The authors' rich analysis shows that white resistance to both African American political leadership and the politics of inclusion contributed to the breakdown of the city council, as did the class and gender divisions among council members. These divisions mirrored those in the African American community as a whole. Moreover, Randolph and Tate argue that the biracial alliances formed by black conservatives ultimately shifted political power back to the white elite.
Based on a historical analysis of the roots of Richmond's political evolution as well as on interviews and quantitative data, Rights for a Season places events in Richmond in a broader regional and national context of urban political development.
The Authors: Lewis A. Randolph is associate professor of political science at Ohio University. Gayle T. Tate is associate professor of political science in the Africana Studies Department at Rutgers University. They coedited Dimensions of Black Conservatism in the United States.