Reminiscences of an Old Georgia Lawyer
Judge Garnett Andrews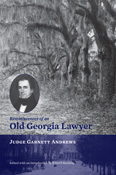 The old judge enjoyed swapping tales and sharing company with other lawyers, politicians, and family members. A true aristocrat of the Old South, Garnett Andrews (1798–1873) so enjoyed hearing and telling good yarns that he decided late in his life to preserve them for posterity. The judge wrote down a collection of his stories, including tales of men with whom he had worked—and some whom he had worked against—and in 1870, about three years before he died, he had his booklet printed and circulated among friends. He titled it Reminiscences of an Old Georgia Lawyer.
This new volume reprises Andrews's work, and features a new introduction by S. Kittrell Rushing. In recounting a lawyer's life from the frontier period through the Civil War and into the Reconstruction era, Andrews's recollections provide rare and fascinating details, particularly about pre–Civil War Georgia, the state of the judiciary in the early national period—about which little has been written—and the larger political and social milieu of antebellum and postbellum America. This is an eclectic mixture of tall tales, humorous anecdotes, and keen observations about southern society and the practice of law.
In his introduction, Rushing places Andrews's writings in a broad context. He addresses Andrews's racial views head on, confronting and probing the racism, sexism, and classism of Andrews and his times. In addition, Rushing provides biographical and genealogical information about the judge and his family, including his daughter, the noted diarist and novelist Eliza Frances Andrews. This volume also includes other pieces by Andrews, among them letters, speeches, and his acceptance of the 1855 gubernatorial nomination.
Highly readable and lively, Reminiscences of an Old Georgia Lawyer will enlighten and entertain both scholars and general readers interested in the history of Georgia, the Old South, and American legal history.