Reluctant Partners
Nashville and the Union, 1863-1865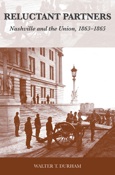 Author(s): Durham, Walter T.
Series:
Imprint: Univ Tennessee Press
Publication Date: 2008-12-01
Status: Active
Available in Hardcover - Cloth: Price $45.00 | Buy Now
In 1862, Nashville became the first Southern state capital to be captured by the Union Army; that occupation would not end until after the Civil War's conclusion in 1865. In two incisive books, first published more than twenty years ago and available once more for a new generation of readers, Walter T. Durham traces occupied Nashville's reluctant transition from Rebel stronghold to partner of the Union.
Together, Nashville and Reluctant Partners highlight the importance of local history within Civil War scholarship and assess the impact of the war on people other than combat soldiers and places other than battlefields. Nashville examines the first seventeen months of the Union occupation, showing how the local population coped with the sudden presence of an enemy force. It also explores the role of military governor Andrew Johnson and how he asserted his authority over the city. Reluctant Partners depicts a city coming to grips with the rapidly fading prospect of a Confederate victory and how, faced with this reality, its citizens began to cooperate with Johnson and the Union. Their reward was a booming economy and scant battle damage.
With new prefaces discussing the two decades of scholarship that have emerged since these books' original appearance, these volumes offer an absorbing view of Union occupation at the most local of levels. Durham's volumes remain at the forefront of reconsidering the Civil War in the Upper South. Students and scholars of the Civil War–particularly in its social dimensions–as well as devotees of Tennessee history will find these new editions invaluable.