Record of the Organizations Engaged in the Campaign, Siege, and Defense of Vicksburg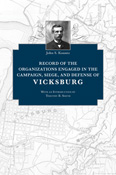 Large numbers of Civil War veterans remembered and reminisced about their war experiences, but only a relative few dedicated the rest of their lives to the task of commemorating their long-ago deeds. John S. Kountz was one of this latter group. Kountz joined the Thirty-seventh Ohio Infantry in September 1861 as a fifteen-year-old drummer boy and later, under General William T. Sherman, endured the long siege at Vicksburg before helping to win control of the city in July 1863. In 1899 the War Department appointed Kountz as the official historian at the newly designated Vicksburg National Military Park. As part of his duties, he produced two major works, an organizational chronicle of the armies that fought at Vicksburg and an unpublished narrative of the campaign and siege. This welcome volume presents both of these extremely rare documents together for the first time, providing a valuable resource for a new generation of scholars and enthusiasts.   
Record of the Organizations Engaged in the Campaign, Siege, and Defense of Vicksburg was published in a limited edition by the Government Printing Office in 1901 and offered visitors and historians a detailed examination of the various commands that fought at Vicksburg. The record has long been an essential but hard-to-find source for historians. Kountz's impressive 116-page campaign overview is rarer still. Because of turnover at the park and Kountz's death in 1909, the manuscript never saw publication and has, until now, lain buried in the archives at Vicksburg. Offering an unbiased account of both sides of the battle, it delves into the minds of the commanders, examines their decision-making processes, and articulates several opinions that have sparked debate ever since.
With a new introduction by noted historian Timothy B. Smith, this significant work makes widely available an important history by a participant in the action and opens a fascinating window into the history of Civil War scholarship.