Reading the Old Man
John Brown in American Culture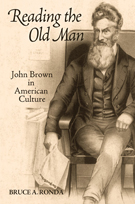 Author(s): Ronda, Bruce
Series:
Imprint: Univ Tennessee Press
Publication Date: 2008-05-01
Status: Active
Available in Hardcover - Cloth: Price $39.95 | Buy Now
Liberator? Madman? Genius? Martyr?  John Brown achieved immediate and lasting notoriety through his attempt to foment an armed insurrection among black slaves in 1859, an event that many believed hastened the outbreak of the U.S. Civil War. From the moment of his capture at Harper's Ferry,Virginia, there have been widely varying interpretations of the man and his motivations. Sometimes depicted as the grim conscience of a nation whose founding proclaimed the equality of all people, sometimes portrayed as a terrorist more devoted to his own martyrdom than to his cause, Brown has been a source of inspiration, fascination, and frustration for some of the country's greatest writers and artists.
In this absorbing book, Bruce Ronda examines the representations of Brown chronologically, ranging from Thoreau's "Plea for Captain John Brown"-with its ardent defense of Brown as a patriot, Transcendentalist, and true New Englander-through treatments by anonymous southern writers and well-known authors such as John Green leaf Whittier, Herman Melville, Richard Henry Dana, Frederick Douglass, William Dean Howells, and Edwin Arlington Robinson. Ronda then considers the major treatments of Brown in the early to mid-twentieth century by W. E. B. Du Bois, Stephen Vincent Benet, and Robert Penn Warren. Of particular interest are discussions of a 1930s poem by Muriel Rukeyser, Truman Nelson's 1960 novel The Surveyor, and artwork by Jacob Lawrence. He concludes with studies of novels by three contemporary authors: Russell Banks, Michelle Cliff, and Bruce Olds.
Reading the Old Man challenges the assumption that literature about Brown falls predictably into two camps-celebration or outrage-either defending Brown as liberator and martyr or vilifying him as a traitor, incendiary, and madman.  Instead, Ronda discovers a variety of approaches and reveals subtler, more complex portraits, even comparing Brown's fervor to that of today's religious terrorists.
Bruce Ronda is professor and chair of the Department of English at Colorado State University. He is the author of Intellect and Spirit: The Life and Works of Robert Coles and Elizabeth Palmer Peabody: A Reformer on Her Own Terms. He is the editor of The Letters of Elizabeth Palmer Peabody: American Renaissance Woman.