Reading Faulkner
Introductions to the First Thirteen Novels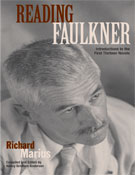 Author(s): Marius, Richard
Series:
Imprint: Univ Tennessee Press
Publication Date: 2007-06-30
Status: Active
Available in Paper: Price $26.95 | Buy Now
Reading Faulkner: Introductions to the First Thirteen Novels is a collection of lectures by Harvard University professor and nationally known novelist and biographer Richard Marius. Marius had been charged with the task of teaching an introductory course on Faulkner to undergraduates in 1996 and 1997. Combining his love of Faulkner's writing with his own experiences as an author and teacher, Marius produced a series of delightful lectures-which stand on their own as sparkling, well-rounded essays-that help beginning students in understanding the sometimes difficult work of this celebrated literary master.
An expository treatment of Faulkner's major works, Reading Faulkner comprises essays that are arranged in roughly chronological order, corresponding to Faulkner's development as a writer. In a way sure to captivate the imagination of a new reader of Faulkner, Marius explicates themes in Faulkner's work, and he sheds light on the larger social history that marked Faulkner's literary production.
In addition, Marius is a southerner who grew up a couple of generations after Faulkner and, like Faulkner, turned his own world into the setting for his fiction. This unique perspective, combined with Marius's thorough readings of the novels, grounded in basic Faulkner criticism, provides an engaging and accessible self-guided tour through Faulkner's career.
Reading Faulkner is perfect for students from high school through the undergraduate level and will be enjoyed by general readers as well.
Richard Marius (1933-1999) taught at the University of Tennessee before heading Harvard's expository writing program from 1978 to 1998. He was the author of Thomas More, Martin Luther: The Christian between God and Death, and four novels about his native East Tennessee.
Nancy Grisham Anderson is an associate professor of English at Auburn University, Montgomery. She is the author of The Writer's Audience: A Reader for Composition and the editor of They Call Me Kay: A Courtship in Letters, and Wrestling with God: The Meditations of Richard Marius. She was a longtime friend of Richard Marius.