Re-Situating Folklore
Folk Contexts and Twentieth-Century Literature and Art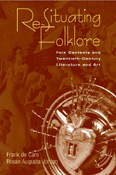 Author(s): de Caro, Frank, and Rosan Augusta Jordan
Series:
Imprint: Univ Tennessee Press
Publication Date: 2004-03-01
Status: Active
Available in Hardcover - Cloth: Price $35.00 | Buy Now
The relationship between folklore and literature, two powerful forms of human expression, has long been of interest to folklorists and literary scholars. Even in the postmodern era, folklore remains a compelling source for artists and writers. Re-Situating Folklore: Folk Contexts and Twentieth-Century Literature and Art focuses on the work of a number of writers and visual artists who have incorporated folklore into their short stories, novels, plays, photographs, paintings, and creations in other genres.
Frank de Caro and Rosan Augusta Jordan examine the ways writers "re-situate" folklore into their literary texts. The authors then reach beyond literature into a variety of visual art "texts" as well. They further consider literary influences and texts as sources of folk ideas. Analysis of twentieth-century novels (including those of Graham Greene, Harper Lee, and Chinua Achebe), "popular" and "high" art (from postcards and local cartoons to Diego Rivera's murals), and the drama of Lucy Maycock reveals how the rich interaction between folklore and various visual and literary texts has transformed them all. Other artists considered include Margaret Atwood, Frida Kahlo, E. M. Forster, and Alice Walker. Re-Situating Folklore offers new ways of conceptualizing the methods by which artists use folklore even as it poses questions about the larger issue of why folklore appeals to those outside the groups who actually create and circulate it in tradition.
Frank de Caro is professor emeritus of English at Louisiana State University. He is editor of The Folktale Cat and of Louisiana Sojourns: Travelers' Tales and Literary Journeys, which received the Louisiana Humanities Book Award. Rosan Augusta Jordan is a retired associate professor of English at Louisiana State University. She is coauthor with de Caro of British Voices from South Asia and author of many articles focusing on Louisiana folk customs and Mexican American folkways. She won the Lynwood Montell Award in 1992 for best article in Southern Folklore.