Piedmont Farmer
The Journals of David Golightly Harris, 1855-1870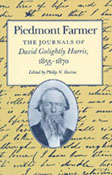 Author(s): Racine, Philip N.
Series:
Imprint: Univ Tennessee Press
Publication Date: 1997-07-16
Status: Active
Available in Paper: Price $25.00 | Buy Now
The journals of David Golightly Harris are a unique daily record of a fifteen-year span in the life of a Piedmont South Carolina farm family that owned ten slaves and cultivated one hundred acres. Documents from small slaveholders are few, making these journals an invaluable source of information about the agricultural routines of a small antebellum farm as well as a revealing commentary on regional and national affairs, slavery, education, religion, family relationships, and community life. An especially compelling feature of this book is its inclusion of writings by Harris's wife, Emily, who took over the journal when he went to war for the Confederacy in 1862. Recounting the trials of managing the farm and raising seven children in her husband's absence, Emily's words offer poignant insights into the daily struggles of those who tended the home front during the Civil War.
"Piedmont Farmer is one of those rare books that deserves a place alongside The Cotton Kingdom, My Bondage and My Freedom, The Children of Pride, Mary Chesnut's Civil War, and the recent Freedom volumes as an indispensable source for historians of the nineteenth-century South."—David C. Rankin, The Journal of Southern History
Harris's journals are important because they span the years before, during, and after the Civil War. . . . Philip N. Racine's annotations are extensive and extraordinarily rich in detail and insight. Enhanced with photographs, maps, and a comprehensive index, the Harris journals are not only a major contribution to southern history, but also they are a poignant view of agriculture and an explicit confirmation of slavery's burden."—David E. Schob, Illinois Historical Journal
The Editor: Philip N. Racine is Kenan Professor of History at Wofford College in Spartanburg, South Carolina. He edited "Unspoiled Heart": The Journal of Charles Mattocks of the 17th Maine in the Voices of the Civil War series published by the University of Tennessee Press.