Perspectives in Vernacular Architecture, IV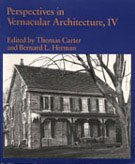 Author(s): Carter, Thomas, and Bernard L. Herman, eds.
Series: Perspectives in Vernacular Architecture
Imprint: Vernacular Architecture Forum
Publication Date: 0000-00-00
Status: Active
Available in Paper: Price $21.00 | Buy Now
"Perspectives in Vernacular Architecture will serve admirably to document the scope of vernacular architecture studies in the United States today" praised Landscape Journal in a review of Volumes I and II. The Journal of American History described Volume III as "a lively, varied, and interesting collection reflective of vernacular architecture's continuing development as a field of historical inquiry."
Continuing in the tradition of the first three books, this fourth volume in the highly regarded Perspectives in Vernacular Architecture series represents some of the best and most recent scholarly work in the field. Ranging from studies of colonial masons to twentieth-century suburbanization, from the role of women in the creation of vernacular architecture to a history of beds and bedrooms, Volume VI explores the images and meanings of the nation's architecture at its most human level, the level of everyday life.
Thomas Carter teaches in the Graduate School of Architecture in Utah in Salt Lake City. He is coeditor of Perspectives in Vernacular Architecture, III and coauthor of Utah's Historic Architecture.
Bernard L. Herman is Associate Director of the Center for Historic Architecture and Engineering at the University of Delaware in Newark. He is the author of The Stolen House and Architecture and Rural Life in Central Delaware, coauthor of A Land and Life Remembered: Americo-Liberian Folk Architecture, and coeditor of Perspectives in Vernacular Architecture, III.