One Homogeneous People
Narratives of White Southern Identity, 1890-1920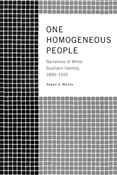 Southerners have a reputation as storytellers, as a people fond of telling about family, community, and the southern way of life. A compelling book about some of those stories and their consequences, One Homogeneous People examines the forging and the embracing of southern "pan-whiteness" as an ideal during the volatile years surrounding the turn of the twentieth century.
Trent Watts argues that despite real and signifcant divisions within the South along lines of religion, class, and ethnicity, white southerners—especially in moments of perceived danger—asserted that they were one people bound by a shared history, a love of family, home, and community, and an uncompromising belief in white supremacy. Watts explores how these southerners explained their region and its people to themselves and other Americans through narratives found in a variety of forms and contexts: political oratory, fiction, historiography, journalism, correspondence, literary criticism, and the built environment.
Watts examines the assertions of an ordered, homogeneous white South (and the threats to it) in the unsettling years following the end of Reconstruction through the early 1900s. In three extended essays on related themes of race and power, the book demonstrates the remarkable similarity of discourses of pan-whiteness across formal and generic lines. In an insightful concluding essay that focuses on an important but largely unexamined institution, Mississippi's Neshoba County Fair, Watts shows how narratives of pan-white identity initiated in the late nineteenth century have persisted to the present day.
Written in a lively style, One Homogeneous People is a valuable addition to the scholarship on southern culture and post-Reconstruction southern history.