One Anthropologist, Two Worlds
Three Decades of Reflexive Fieldwork in North America and Asia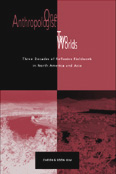 Author(s): Kim, Choong Soon
Series:
Imprint: Univ Tennessee Press
Publication Date: 2002-09-05
Status: Active
Available in Paper: Price $15.00 | Buy Now
Unlike anthropologists who conduct their fieldwork in one cultural setting, Choong Soon Kim has alternated between two distinct worlds for more than thirty years. He is an anthropologist whose research has focused not only on people in his homeland of Korea but also on rural whites and African Americans in the American South and on American industrial workers and the Japanese entrepreneurs who employ them.
One Anthropologist, Two Worlds is both the memoir of a fieldworker and a cultural analysis of a transplanted anthropologist who has worked extensively in Asia and America. In telling how he has shifted from one milieu to another, Kim also describes how he has gone from being an insider to an outsider–and from a marginal to a reflexive anthropologist.
Kim's account is a unique case study in anthropological fieldwork. He develops a broadened approach to anthropology that encompasses both eastern and western outlooks as he describes cultural changes in both worlds. He addresses such current debates as personal identity, marginality, globalization, and the reflexivity of anthropological fieldworkers, and he discusses these issues with greater insight that can be had from those who less traveled.
While there have been many studies of fieldwork, few have dealt with work conducted in the United States by anthropologists from other cultures. One Anthropologist, Two Worlds is an ethnography of an ethnographer–the work of an insightful scholar who is a gifted storyteller. It is also a jubilant celebration of the practice of anthropology.