On Barbecue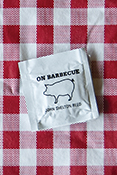 "John Shelton Reed's style is accessible, conversational, acerbically funny. It tastes of vinegar and spices as surely as a plate of Carolina barbecue does."—Jim Auchmutey, author of Smokelore: A Short History of Barbecue in America
"To the benefit of all eaters and thinkers, John Shelton Reed leverages sociology, history, genealogy, and, most important, informed curiosity, to tell us compelling and revealing stories. From a grounding essay on origins and dispersals to meditations on geography and class, he has written an ideal primer for the 21st century. In a crowded field, in this golden age of barbecue, this book is now my trusted companion."—John T Edge, author of The Potlikker Papers 
"With On Barbecue, John Shelton Reed shows once again that he's one of the world's most important barbecue authorities. This engaging essay collection delightfully explores the cuisine's past, present, and possible future. It's essential reading for anyone who wants an accessible and deeper understanding of an iconic American food."—Adrian Miller, author of Black Smoke: African American Adventures in Barbecue
"I knew that John Shelton Reed had written lots of insightful barbecue commentary over the years, but I had no idea just how rich and varied that output was. On Barbecue gathers a prime selection into a single volume, drawing upon six decades of dining experience and a revealing rock-ribbed devotion to cultural and culinary traditions. At turns ornery, erudite, and laugh-out-loud funny, Reed's essays address everything from history and politics to pop culture and culinary geography. There's even a barbecue cocktail recipe in case you get thirsty."—Robert Moss, barbecue editor of Southern Living and author of Barbecue: The History of an American Institution
"John Shelton Reed is a brilliant scholar and national treasure. He has spent a lifetime exploring how barbecue has shaped the course of America's culinary destiny. On Barbecue is a must read for anyone who loves history, culture, and especially righteous food."  —Steven Raichlen, author of The Barbecue! Bible cookbook series and host of Project Fire and Project Smoke on PBS
"John Shelton Reed has plenty of opinions, but chief among them is that the world is a better place with barbecue in it. Those inclined to agree will find the world is also vastly improved by Reed's informed and animated coverage of Southern barbecue's history and evolution. On Barbecue is a must-read for anyone about to wade into a smoked meat fight." —Hanna Raskin, food editor and chief critic, The Post and Courier
"The world does need another book on barbecue—if it is written by John Shelton Reed."—Fred Sauceman, author of The Proffitts of Ridgewood: An Appalachian Family's Life in Barbecue
_____________________________________________
John Shelton Reed is one of today's most knowledgeable authors on the subject of barbecue. Holy Smoke: The Big Book of North Carolina Barbecue, written with his wife, Dale Volberg Reed, won the National Barbecue Association Award of Excellence in 2017 and was a finalist for the 2009 International Associate of Culinary Professionals Cookbook Award. In this collection, On Barbecue, Reed compiles reviews, essays, magazine articles, op-eds, and book extracts from his many-year obsession with the history and culture of barbecue. Brought together, these pieces constitute a broad look at the cultural, culinary, historical, and social aspects of this American institution.
Reed's original and provocative voice carries through this collection, which spans more than twenty years of barbecue lore. A lover of tradition whose study of regional distinctions has made him prize and defend them, Reed writes with conviction on what "real" barbecue looks, smells, and tastes like. He delves into the history of barbecue and even the origins of the word barbecue itself. Other topics include present-day barbecue, Carolina 'cue and other regional varieties, and recipes daring readers to master their own backyard barbecues.
Anyone with an interest in this signature American food will find themselves immersed in this book's accessible, conversational, and frequently tart pages. From one of the wittiest and most knowledgeable authors writing on the subject, On Barbecue is essential reading.
JOHN SHELTON REED is the William Rand Kenan Jr. Professor of Sociology (Emeritus) at the University of North Carolina. He is the author or editor of twenty-two books, mostly about the South and Southern culture, including most recently Mixing It Up: A South-Watcher's Miscellany. He is co-founder and Éminence Grease of the Campaign for Real Barbecue (TrueCue.org).