Notes of the Mexican War, 1846-1848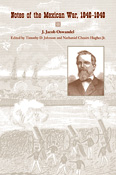 In December 1846, John Jacob Oswandel—or Jake as he was often called—enlisted in the Monroe Guards, which later became Company C of the First Pennsylvania Volunteer Regiment. Thus began a twenty-month journey that led Oswandel from rural Pennsylvania through the American South, onward to the siege of Veracruz, and finally deep into the heart of Mexico. Waging war with Mexico ultimately realized President James K. Polk's long-term goal of westward expansion all the way to the Pacific Ocean. For General Winfield Scott, the victorious Mexico City campaign would prove his crowning achievement in a fifty-three-year military career, but for Oswandel the "grand adventure of our lives" was about patriotism and honor in a war that turned this twenty-something bowsman into a soldier.
Notes of the Mexican War, 1846–1848, is the quintessential primary source on the Mexican War. From Oswandel's time of enlistment in Pennsylvania to his discharge in July of 1848, he kept a daily record of events, often with the perception and intuition worthy of a highly ranked officer. In addition to Oswandel's engaging narrative, Timothy D. Johnson and Nathaniel Cheairs Hughes, Jr. provide an introduction that places Oswandel's memoir within present-day scholarship. They illuminate the mindset of Oswandel and his comrades, who viewed the war with Mexico in terms of Manifest Destiny and they give insight into Oswandel's historically common belief in Anglo-Saxon superiority—views that would bring about far worse consequences at the outbreak of the American Civil War a dozen years later.
As historians continue to highlight the controversial actions of the Polk administration and the expansionist impulse that led to the conflict, Notes of the Mexican War, 1846–1848, opens a window into the past when typical young men rallied to a cause they believed was just and ordained. Oswandel provides an eyewitness account of an important chapter in America's history.