North American Zooarchaeology
Reflections on History and Continuity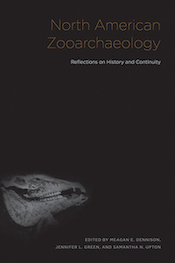 Walter E. Klippel came to the University of Tennessee in 1977 as an assistant professor of anthropology. In the forty years that followed, he supervised and mentored countless students in archaeology and biological anthropology, published more than fifty journal articles and book chapters, and assembled a zooarchaeological comparative collection of national significance. During his tenure, Klippel's important contributions to the field of zooarchaeology would impact not only his students and colleagues but the development of zooarchaeological research as a whole. Even after his retirement in 2017, Klippel's influence is readily apparent in the studies of his contemporaries. North American Zooarchaeology: Reflections on History and Continuity is their tribute to his work.
Developed by friends, students, and colleagues of Walter Klippel, North American Zooarchaeology presents a wide-ranging collection of essays through the lens of his remarkable career. Each chapter of the volume represents a prevailing theme notable in Klippel's research, including geological and landscape contexts, taphonomy, and the incorporation of actualistic methodologies and new technologies into zooarchaeological analyses. The diversity of topics represented across the ten chapters showcase just how extensive Klippel's research interests are and suggest how much contemporary zooarchaeology owes to his vision. The authors take up this broad palette to explore the various ways in which the framework of zooarchaeology can be used and applied in nontraditional settings.
With a foreword by Bonnie Styles and Bruce McMillan, longtime friends and colleagues of Walter Klippel, this volume reflects on the history and continuity of zooarchaeology in North America and honors one of its most notable contemporary contributors. With its multifaceted approach, this volume is sure to appeal to a broad array of practitioners in the field of zooarchaeology.
MEAGAN E. DENNISON, JENNIFER L. GREEN, and SAMANTHA N. UPTON are graduate students in the Department of Anthropology at the University of Tennessee.