Never Been Rich
The Life and Work of a Southern Ruralist Writer, Harry Harrison Kroll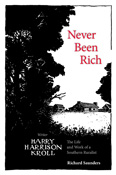 Known for his sometimes-gritty naturalism and use of Appalachian dialect, Harry Harrison Kroll (1888–1967) was a remarkably prolific Tennessee novelist and short-story writer during the middle decades of the twentieth century. His career spanned two of the three major shifts in publishing during the twentieth century: the heyday and decline of the fiction magazine market during the late 1920s, and the rise of nonfiction and solidification of paperback marketing during the 1950s. Never Been Rich explores details of Kroll's humble, rural youth, his long delayed education and the development of his craft, before discussing his lengthy career and how it reflected changes in both public taste and the American publishing industry.
Kroll focused on writing not as a high art, but instead on what was popular—what would earn him a living. He preferred to write voluminously rather than exquisitely, and growing up in the rural south provided him with a broad and fertile field of experience to plow for his crop of stories. As a writing instructor, he had a profound influence on his students, particularly the well-known Appalachian triumvirate of James Still, Jesse Stuart, and Don West.
While Kroll may lack grand literary significance, Richard Saunders maintains that we should explore not merely the linguistic and thematic aspects of a writer's work but also its broad economic and social contexts, including the idea that literature is both an art form and a marketable product in an extensive industry. His study of Kroll delves deeply into those contexts and shows that, while Kroll did not strive for a place among writers of high literature, he exemplifies the far more widely read popular literature of his times.