Nashville Architecture
A Guide to the City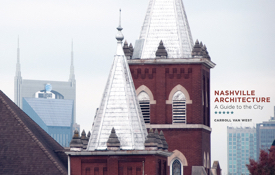 "This book is one that all residents of Nashville—and visitors, too—is going to want to have on their bookshelves." —Don H. Doyle, author of Nashville since the 1920s
Since the turn of the eighteenth century, social movements and technological advances have strongly impacted cosmopolitan identity in America. Nashville, in particular, has experienced one transformation after another as change continues to propel history forward. Settlement during the 1700s, war and Reconstruction during the 1800s, and increased immigration, New Deal programs, and the invention of the automobile during the 1900s—these and many other shifts have made Nashville a hub for transportation, trade, and multicultural relations.
Much has changed since the settlements of the late eighteenth century, but modern Nashville is still celebrated for its diversity, commerce, and transportation. The passing of time is etched in the city's physical identity, juxtaposing the old with the new to demonstrate Nashville's rich history alongside its transformation into modernity.
In Nashville Architecture: A Guide to the City, Carroll Van West examines over 250 properties in Nashville—including well-known buildings such as the Ryman Auditorium, the Hermitage Hotel, and Jubilee Hall at Fisk, as well as many other lesser known properties that outline the city's architectural metamorphosis over the course of the past 200 years. From schools and churches to banks and post offices, from apartment and office buildings to plantations and cemeteries, West surveys a wide variety of architectural sites that are found across Nashville and the greater Davidson County area.
Illustrating his examination with over 150 maps and photographs, West provides a comprehensive architectural guide unlike any before it. An invaluable resource for scholars and travelers alike, this book illustrates Nashville's transformation into the cosmopolitan city that it is today, reminding us that we are surrounded by stories of history and change. It unveils a legacy much deeper than architectural style; it reveals a legacy of evolution, reminding us that architecture examines much more than the concrete properties visible to the eye.
Carroll Van West is Tennessee State Historian and the director of the Center for Historic Preservation at Middle Tennessee State University. He is the author of numerous books about Tennessee, including Tennessee's Historic Landscapes and A History of Tennessee Arts. He is the editor of the print and online editions of the Tennessee
Encyclopedia of History and Culture.