Momma's Lost Piano
A Memoir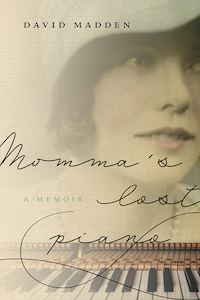 When she is seventeen, Emily Merritt's beloved father gives her the piano she has always wanted. A few days later, having lost his job, he sells Emily's piano and moves the family out of its two-story house in Cleveland, Ohio, to his mother's three-room house in his hometown of Knoxville, Tennessee.
The loss of her piano casts a shadow over Emily's life in Knoxville, a city she could never love. Throughout the rest of her life, Emily longs to return to Cleveland, where she had an idyllic youth with many boyfriends and girlfriends and was, above all, a good piano student. Her life becomes like that of a nomad, moving from house to house and from job to job.
Her great love of life is expressed by dancing in highway honky-tonks, along with her six beautiful girlfriends. After divorcing her lovable, alcoholic husband, Emily falls deeply in love with troubled married men. She doesn't enjoy whiskey or smoking, but she's not a churchgoer. She raises three boys in poverty. A fourth son dies soon after birth. Oldest Dickie becomes a life-long petty conman, but little brother John, known as "Sunshine," becomes a legendary rescuer of wayward boys and girls. Jerry, the middle brother, becomes a merchant seaman, a soldier, and finally a professor and successful writer.
Rather than a chronological narrative, Madden employs an impressionistic style that enables readers to experience Emily's memories as he imagines them. In sharply focused scenes, Madden evokes the colorful expressions of the articulate, witty woman he has spent all his life listening to—and this memoir will inspire readers to listen eagerly, too.
DAVID MADDEN is the author of fifteen works of fiction, including most recently two collections: The Last Bizarre Tale and Marble Goddesses and Mortal Flesh.