Mary McLeod Bethune
Village of God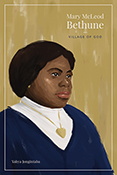 Mary McLeod Bethune was born on May 10, 1875, in a log cabin in rural Sumter County, South Carolina. She was the fifteenth child among seventeen siblings but the first born free of the bonds of slavery. As a child she attended a Presbyterian mission school in nearby Mayesville and Scotia Seminary in Concord, North Carolina. After some years at Scotia she was admitted in 1894 to the Moody Bible Institute in Chicago. Her two years of training at Moody did not lead to missionary work in Africa, as she had dreamed, but to missionlike teaching positions in the South and eventually her founding, in 1904, of the Daytona Normal and Industrial Institute for Girls, in Daytona Beach, Florida. That institution would grow to the present-day Bethune-Cookman University.
In this religious biography, author Yahya Jongintaba traces Bethune's life of service in lively prose, structuring his book in a five-part framework that organizes his subject's life in parallel with the Lord's Prayer and virtues identified by Bethune herself: freedom, creativity, integrity, discipline, and love. With unfettered access to Bethune's personal archive, Jongintaba paints a picture of a mother figure and mentor to generations, a nearsaint who lived "a blameless life for four-score years." With deep empathy and the kind of "spiritual understanding" that Bethune had despaired of finding in a biographer in her own lifetime (despite attempts by publishers and herself to find just the right person), Jongintaba endeavors to achieve in his biography what Bethune wrote that she hoped to accomplish in an autobiography that never materialized: to "give to the world the real Mary McLeod Bethune's life as I have lived it."
YAHYA JONGINTABA was for three years Professor of Religion and Humanities at Bethune-Cookman University when he researched this book in the University's Mary McCleod Bethune Papers. Author of a dozen books under his former name, Jon Michael Spencer, Yahya Jongintaba continues his life as a writer in the ecovillage he founded in Tanzania, for which Mary McLeod Bethune serves as a model of village virtue.