Making an Atlantic World
Circles, Paths, and Stories from the Colonial South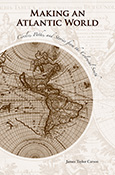 In the South, colonialism threw together three peoples who each played important roles in the creation of a new kind of society. Making an Atlantic World explores how Native Americans, Africans, and Europeans understood the landscapes they inhabited and how, after contact, their views of the world had to accommodate and then accept the presence of the others.
Based on the notion of "founding peoples" rather than "founding fathers," Making an Atlantic World uses an innovative, interdisciplinary approach to interpret the Colonial South. James Taylor Carson uses historical ethnogeography-a new methodology that brings together the study of history, anthropology, and geography.
This method seeks to incorporate concepts of space and landscape with social perspectives to give students and scholars a better understanding of the forces that shaped the development of a synthesized southern culture.
Unlike previous studies, which considered colonization as a contest over land but rarely considered what the land was and how people understood their relationships to it, Making an Atlantic World shows how the founding peoples perceived their world before contact and how they responded to contact and colonization.
The author contends that each of the three groups involved-the first people, the invading people, and the enslaved people-possessed a particular worldview that they had to adapt to each other to face the challenges brought about by contact.
James Taylor Carson is associate professor of history at Queen's University in Ontario, Canada.  He is the author of Searching for the Bright Path: The Mississippi Choctaws from Prehistory to Removal. His articles and reviews have appeared in Ethnohistory, Journal of Mississippi History, Agricultural History, Journal of Military History, and other publications.