Mainstreaming Fundamentalism
John R. Rice and Fundamentalism's Public Reemergence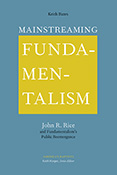 "This study places Rice in a particular form of religious and culture-oriented fundamentalism and will be a helpful resource to scholars and students of American fundamentalism, Southern fundamentalism, and specific controversies that developed along the way."—Bill J. Leonard, professor emeritus, Wake Forest University, and author of A Sense of the Heart: Christian Religious Experience in the United States
_________________________________
In Mainstreaming Fundamentalism: John R. Rice and Fundamentalism's Public Reemergence, Keith Bates embarks on a thematic and chronological exploration of twentieth-century Baptist fundamentalism in postwar America, sharing the story of a man whose career intersected with many other leading fundamentalists of the twentieth century, such as J. Frank Norris, Bob Jones Sr., Bob Jones Jr., and Jerry Falwell.
Unique among histories of American fundamentalism, this book explores the theme of Southern fundamentalism's reemergence through a biographical lens. John R. Rice's mission to inspire a broad cultural activism within fundamentalism—particularly by opposing those who fostered an isolationist climate—would give direction and impetus to the movement for the rest of the twentieth century. To support this claim, Bates presents chapters on Rice's background and education, personal and ecclesiastical separatism, and fundamentalism and political action, tracing his rise to leadership during a critical phase of fundamentalism's development until his death in 1980.
Bates draws heavily upon primary source texts that include writings from Rice's fundamentalist contemporaries, his own The Sword of the Lord articles, and his private papers—particularly correspondence with many nationally known preachers, local pastors, and laypeople over more than fifty years of Rice's ministry. The incorporation of these writings, combined with Bates's own conversations with Rice's family, facilitate a deeply detailed, engaging examination that fills a significant gap in fundamentalist history studies.
Mainstreaming Fundamentalism: John R. Rice and Fundamentalism's Public Reemergence provides a nuanced and insightful study that will serve as a helpful resource to scholars and students of postwar American fundamentalism, Southern fundamentalism, and Rice's contemporaries.
KEITH BATES has a PhD in history from Kansas State University and currently serves as professor of history at Union University. He is the coeditor of Civil Religion and American Christianity, to which he also contributed a chapter as an author.