Louisa May Alcott and Charlotte Bronte
Transatlantic Translations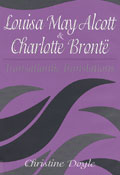 Author(s): Doyle, Christine
Series:
Imprint: Univ Tennessee Press
Publication Date: 0000-00-00
Status: Active
Available in Paper: Price $22.00 | Buy Now
"Doyle demonstrates that Alcott kept up a running dialogue with her distinguished British counterpart, both contesting and adapting Brontë's treatments of woment's spiritual, social, and vocational lives so as to develop her own distinctively American talent." —Elizabeth Keyser, author of Whispers in the Dark: The Fiction of Louisa May Alcott
"Doyle provides an illuminating discussion of the full range of Louise May Alcott's writing. Comparisons with Charlotte Brontë spark keen insights into literary traditions and cultural events. General readers will enjoy this book; Alcott and Brontë scholars will need it." —Beverly Lyon Clark, author of Regendering the School Story: Sassy Sissies and Tattling Tomboys
The work and life of British author Charlotte Brontë fascinated America's Louisa May Alcott throughout her own literary career. As a nineteenth-century writer struggling with many of the same themes and issues as Brontë, Alcott was drawn toward her British counterpart, but cultural differences created a literary distance between them sometimes as wide as the Atlantic.
In this comparative study, Christine Doyle explores some of the intriguing parallels and differences between the two writers' backgrounds as she traces specific references to Brontë and her work—not only in Alcott's children's fiction, but also in her novels for adults and "sensation fiction." Doyle compares the treatment of three themes important to both writers—spirituality, interpersonal relations, and women's work—showing how Alcott translated Brontë's British reserve and gender- and class-based repression into her own American optimism and progressivism.
In her early career, Alcott was so fascinated by Brontë's works that she patterned many of her characters on those of Brontë; she later adapted these British elements into a more recognizably American form, producing independent, strong heroines. In observing differences between the writers, Doyle notes that Alcott expresses less anti-Catholic sentiment than does Brontë. She also discusses the authors' attitudes toward the theater, showing how for Brontë drama is associated with falseness and hypocrisy, while for Alcott it is a profession that expresses possibilities of power and revelation.
Throughout her insightful analysis, Doyle shows that Alcott responds as a uniquely American writer to the problems of American literature and life while never denying the powerful transatlantic influence exerted by Brontë. Doyle's work reflects a wide range of scholarship, solidly grounded in an understanding of the Victorian temperament, nineteenth-century British and American literature, and recent Alcott criticism and gives fuller voice to the multiple dimensions of Alcott as a nineteenth-century writer.
The Author: Christine Doyle is an associate professor of English at Central Connecticut State University.