Looking beyond the Highway
Dixie Roads and Culture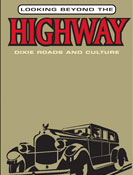 Author(s): Stager, Claudette, and Martha A. Carver, eds.
Series:
Imprint: Univ Tennessee Press
Publication Date: 2006-03-16
Status: Active
Available in Hardcover - Cloth: Price $48.00 | Buy Now
Looking beyond the Highway is an examination of road history and roadside attractions specific to the South. Focused in part on numerous aspects of thematerial culture landscape of the Dixie Highway, the essays consider the politics of roadbuilding, roadside entertainment, the buildings and businesses one might encounter along the road, and regional adaptations to the needs and desires of northern tourists.
Following the Dixie Highway from southern Illinois to Florida with sidetrips down other southern roads, the essays cover a wide variety of subjects, many of which will resonate with anyone who has ever lived in or vacationed in the South: Harrison Mayes's "Get Right With God" signs; the park-and-pray craze of outdoor drive-in church services; the rise and demise of brick highways; the fierce political battle over the route of the Dixie Highway; beach music and the evolution of motel architecture in Myrtle Beach; Florida's early tourist towers; and the commercial development of Tennessee caves as tourist attractions.
Covering a landscape that includes Tennessee, Georgia, North Carolina, Florida, Mississippi, Indiana, Virginia, Arkansas, Ohio, Kentucky, Alabama, and Illinois, the anthology shows that there was and still is a distinctive southern culture and how roads have influenced that culture.
As lively as they are diverse, the articles provide a solid background for understanding roadside ephemera that have disappeared or are quickly disappearing. Ranging from the serious to the light-hearted and including descriptions of American road and roadside icons to kitsch, the book will appeal to anyone with an interest in road history and roadside architecture.