Little to Eat and Thin Mud to Drink
Letters, Diaries, and Memoirs from the Red River Campaigns, 1863-1864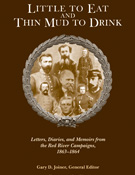 Author(s): Joiner, Gary D.
Series: Voices of the Civil War
Imprint: Univ Tennessee Press
Publication Date: 2007-05-10
Status: Active
Available in Paper: Price $34.95 | Buy Now
Little to Eat and Thin Mud to Drink does more than just document the history of the Trans-Mississippi conflict of the Civil War. It goes much deeper, offering a profound, extended look into the innermost thoughts of the soldiers and civilians who experienced the events that took place in Louisiana, Texas, and Arkansas. Gleaning from a rich body of rare journals, diaries, and letters, this groundbreaking book demonstrates the significant impact that military operations in this region had on the local population in years between 1863 and 1865.
Readers will be introduced to the many different individuals who were touched by the campaign, both Confederate and Union. Ably edited by Joiner, a leading expert on the Trans-Mississippi conflict, and others, some of these manuscripts are witty, others somber, some written by Harvard- and Yale-educated aristocrats, others by barely literate farmers. All profoundly reflect their feelings regarding the extraordinary circumstances and events they witnessed.
In Little to Eat and Thin Mud to Drink, readers will have access to the diary of James A. Jarratt, a Confederate sergeant whose cogent narratives dispute commonly held views of the Battle of Mansfield. Representing a much different point of view is the diary of Private Julius Knapp, whose lengthy diary sheds light on the life of a Northern soldier fighting in the ill-fated Union march through Louisiana in 1864. A rare glimpse into the diary of a Southern woman is offered through the fascinating and melancholy musings of plantation belle Sidney Harding. Readers will also encounter the private letters of a French prince turned Confederate officer; of Elizabeth Jane Samford Fullilove, the angst-ridden wife of a Confederate soldier; and many others.
These first-person narratives vividly bring to life the individuals who lived through this important, but often neglected, period in Civil War history. Little to Eat and Thin Mud to Drink will engross anyone interested in exploring the human side of the Civil War.
Gary Joiner is an assistant professor of history at Louisiana State University in Shreveport and the director of the Red River Regional Studies Center at LSUS. His books include One Damn Blunder from Beginning to End: The Red River Campaign of 1864 and Union Failure in the West and Through the Howling Wilderness: The 1864 Red River Campaign and Union Failure in the West. He is also the coeditor, with Marilyn S. Joiner and Clifton D. Cardin, of another volume in the Voices of the Civil War series, No Pardons to Ask, nor Apologies to Make: The Journal of William Henry King, Gray's 28th Louisiana Infantry Battalion.