Literary Legacies, Folklore Foundations
Selfhood and Cultural Tradition in Nineteenth and Twentieth-Century American Literature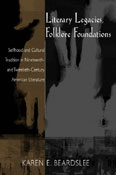 Author(s): Beardslee, Karen E.
Series:
Imprint: Univ Tennessee Press
Publication Date: 2002-02-28
Status: Active
Available in Hardcover - Cloth: Price $27.00 | Buy Now
In this provocative study of eight novels, Karen E. Beardslee asserts that American writers often engage with folk traditions as a necessary part of their characters' journeys to wholeness. Focusing not only on African American, Native American, and Hispanic American cultures but also on women's culture, Beardslee traces the connections between folk legacies and the search for selfhood in both nineteenth- and twentieth-century works.
Within each chapter, a novel by a contemporary author and one from an earlier period are brought together: Whitney Otto's How to Make an American Quilt and Harriet Beecher Stowe's The Minister's Wooing; David Bradley's The Chaneysville Incident and Charles Chesnutt's The Conjure Woman; Leslie Marmon Silko's Ceremony and Zitkala-Sa's American Indian Stories; and Roberta Fernandez's Intaglio and Maria Cristina Mena's The Birth of the God of War. These pairings are not  based on matters of intertextuality or influence but are chosen according to the folk groups to which the novels' characters belong. This strategy enables Beardslee to trace the particular legacies that inform the work of the twentieth-century authors.
As Beardslee notes, contemporary texts and the critical commentary on them have focused, until fairly recently, on the "search for self" in male (usually white) characters. Such works have also positioned that search outside the character's family or community and have usually emphasized its futility. With the growing shift toward multiculturalism in fiction, however, folk traditions have come to play an increasingly crucial role in characters' journeys to self-awareness as well as in the success of those journeys.
Thoroughly researched and cogently argued, this book makes a significant contribution to the study of both folklore and literature as it explores the relationship between knowing one's cultural heritage and achieving a sense of self that is whole instead of fragmented, connected instead of drifting.
The Author: Karen E. Beardslee teaches in the Department of Language and Literature at Burlington County College in Pemberton, New Jersey. Her articles have appeared in MELUS, The Encyclopedia of Folklore and Literature, and the Zora Neale Hurston Forum.