Lines that Divide
Historical Archaeologies Of Race, Class, And Gender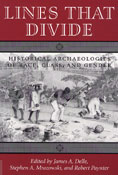 Author(s): Delle, James A., Stephen A. Mrozowski, and Robert Paynter, eds.
Series:
Imprint: Univ Tennessee Press
Publication Date: 0000-00-00
Status: Active
Available in Paper: Price $32.00 | Buy Now
"A truly creative, rigorous, and novel interdisciplinary collection that rethinks some of historical archaeology's most fundamental questions."—Paul Mullins, Indiana University–Purdue University
The division of human society by race, class, and gender has been addressed by scholars in many of the social sciences. Now historical archaeologists are demonstrating how material culture can be used to examine the processes that have erected boundaries between people.
Drawing on case studies from around the world, the essays in this volume highlight diverse moments in the rise of capitalist civilization both in Western Europe and its colonies. In the first section, the contributors address the dynamics of the racial system that emerged from European colonialism. They show how archaeological remains shed light on the institution of slavery in the American Southeast, on the treatment of Native Americans by Mormon settlers, and on the color line in colonial southern Africa. The next group of articles considers how gender was negotiated in nineteenth-century New York City, in colonial Ecuador, and on Jamaican coffee plantations. A final section focuses on the issue of class division by examining the built environment of eighteenth-century Catalonia and material remains and housing from early industrial Massachusetts.
These essays constitute an archaeology of capitalism and clearly demonstrate the importance of history in shaping cultural consciousness. Arguing that material culture is itself an active agent in the negotiation of social difference, they reveal the ways in which historical archaeologists can contribute to both the definition and dismantling of the lines that divide.
The Editors: James A. Delle is an assistant professor of anthropology at Franklin and Marshall College and the author of An Archaeology of Social Space: Analyzing Coffee Plantations in Jamaica's Blue Mountains. 
Stephen A. Mrozowski is an associate professor of anthropology at the University of Massachusetts–Boston, director of the Andrew Fiske Memorial Center for Archaeological Research, and co-author of Living on the Boott: Historical Archaeology of the Boott Cotton Mills, Lowell, Massachusetts.
Robert Paynter is a professor of anthropology at the University of Massachusetts–Amherst, author of Models of Spatial Inequality, and co-editor of The Archaeology of Inequality. 
The Contributors: Marjorie R. Abel, Mark Bograd, James A. Delle, Terrence W. Epperson, William B. Fawcett, Ross W. Jamieson, David L. Larsen, Walter Robert Lewelling, Patricia Hart Mangan, Stephen A. Mrozowski, Michael S. Nassaney, Thomas C. Patterson, Robert Paynter, Warren Perry, Paul A. Shackel, Theresa A. Singleton, Diana diZerega Wall.