Lee's Last Casualty
The Life and Letters of Sgt. Robert W. Parker, Second Virginia Cavalry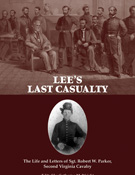 Author(s): Wright, Catherine M., ed.
Series:
Imprint: Univ Tennessee Press
Publication Date: 2012-11-15
Status: Active
Available in Paper: Price $29.95 | Buy Now
The letters assembled in this extraordinarily rich collection were written by Robert W. Parker, an enlisted Confederate cavalryman who is thought to have been the last man killed in action in the Army of Northern Virginia during the Civil War. He is representative of the Confederate Everyman: a modest farmer in the antebellum years, his patriotic fervor spurred him at the beginning of the war to enlist in the Confederate Army, in which he served until his death during the last charge at Appomattox Court House on April 9, 1865.
Parker fought in most of the major campaigns in Virginia, including the 1862 Valley Campaign, the 1862 Peninsula Campaign, the 1863 Maryland Campaign, and the 1864 Overland Campaign. In letters to his wife Rebecca back home in Bedford County, Virginia, Parker described his life as an enlisted soldier in the Second Regiment Virginia Cavalry. His letters reveal how local communities worked together to provide the necessary stuff of war to soldiers, from food and clothing to moral support. They also show the importance of correspondence and religion in sustaining Confederate morale and nationalism.
Catherine Wright provides a valuable introduction that illuminates not only these particular letters but also the many roles of correspondence during the Civil War. She points out how women–in this case, Parker's wife and his mother–made sure that men in the ranks understood that more than politics or manly honor was at stake in fighting the Yankees. Parker believed that the war was a supreme test in which God would look deep into the souls of Northerners and Southerners. His private beliefs informed his public views on how Southerners should act as citizens of a Confederate nation. People of all classes, Parker reasoned, had to give themselves to country and to God if Southern armies were to succeed on the battlefield. Parker's steadfastness was surely due in part to the words of his family, who instilled in him "just cause" to continue fighting.
Anyone with an interest in how a typical soldier experienced the Civil War will find these letters both absorbing and enlightening.