Lee and His Generals
Essays in Honor of T. Harry Williams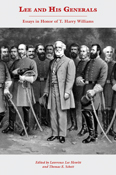 A legendary professor at Louisiana State University, T. Harry Williams not only produced such acclaimed works as Lincoln and the Radicals, Lincoln and His Generals, and a biography of Huey Long that won both the Pulitzer Prize and the National Book Award, but he also mentored generations of students who became distinguished historians in their own right. In this collection, ten of those former students, along with one author greatly inspired by Williams's example, offer incisive essays that honor both Williams and his career-long dedication to sound, imaginative scholarship and broad historical inquiry.
The opening and closing essays, fittingly enough, deal with Williams himself: a biographical sketch by Frank J. Wetta and a piece by Roger Spiller that place Williams in larger historical perspective among writers on Civil War generalship. The bulk of the book focuses on Robert E. Lee and a number of the commanders who served under him, starting with Charles Roland's seminal article "The Generalship of Robert E. Lee," the only one in the collection that has been previously published. Among the essays that follow Roland's are contributions by Brian Holden Reid on the ebb and flow of Lee's reputation, George C. Rable on Stonewall Jackson's deep religious commitment, A. Wilson Greene on P. G. T. Beauregard's role in the Petersburg Campaign, and William L. Richter on James Longstreet as postwar pariah.
Together these gifted historians raise a host of penetrating and original questions about how we are to understand America's defining conflict in our own time—just as T. Harry Williams did in his. And by encompassing such varied subjects as military history, religion, and historiography, Lee and His Generals demonstrates once more what a fertile field Civil War scholarship remains.
Lawrence Lee Hewitt is professor of history emeritus at Southeastern Louisiana University. Most recently, he and Arthur W. Bergeron, now deceased, coedited three volumes of essays under the collective title Confederate Generals in the Western Theater.
Thomas E. Schott served for many years as a historian for the U.S. Air Force and U.S. Special Operations Command. He is the author of Alexander H. Stephens of Georgia: A Biography, which won both the Society of American Historians Award and the Jefferson Davis Award.