Last to Leave the Field
The Life and Letters of First Sergeant Ambrose Henry Hayward, 28th Pennsylvania Volunteers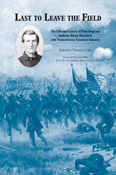 Revealing the mind-set of a soldier seared by the horrors of combat even as he kept faith in his cause, Last to Leave the Field showcases the private letters of Ambrose Henry Hayward, a Massachusetts native who served in the 28th Pennsylvania Volunteer Infantry.
Hayward's service, which began with his enlistment in the summer of 1861 and ended three years later following his mortal wounding at the Battle of Pine Knob in Georgia, took him through a variety of campaigns in both the Eastern and Western theaters of the war. He saw action in five states, participating in the battles of Antietam, Chancellorsville, and Gettysburg as well as in the Chattanooga and Atlanta campaigns. Through his letters to his parents and siblings, we observe the early idealism of the young recruit, and then, as one friend after another died beside him, we witness how the war gradually hardened him. Yet, despite the increasing brutality of what would become America's costliest conflict, Hayward continually reaffirmed his faith in the Union cause, reenlisting for service late in 1863.
Hayward's correspondence takes us through many of the war's most significant developments,including the collapse of slavery and the enforcement of Union policy toward Southern civilians. Also revealed are Hayward's feelings about Confederates, his assessments of Union political and military leadership, and his attitudes toward desertion, conscription, forced marches, drilling, fighting, bravery, cowardice, and comradeship.
Ultimately, Hayward's letters reveal the emotions—occasionally guarded but more often expressed with striking candor—of a soldier who at every battle resolved to be, as one comrade described him, "the first to spring forward and the last to leave the field."
Timothy J. Orr is an assistant professor of military history at Old Dominion University in Norfolk, Virginia.