Landscape and Material Life
In Franklin County, Massachusetts, 1770-1860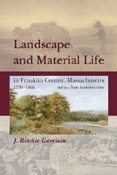 Author(s): Garrison, J. Ritchie
Series:
Imprint: Univ Tennessee Press
Publication Date: 2003-06-11
Status: Active
Available in Paper: Price $32.00 | Buy Now
This innovative study draws on anthropology, archaeology, art history, folklore, and history to illuminate the rich texture of a historic landscape and the complex process by which it changed over a ninety-year period between the American Revolution and the Civil War. Focusing on Franklin County in the upper Connecticut Valley of Massachusetts, a landscape that shares many characteristics with greater New England and with the rural North, Garrison describes the region's town plans, agricultural patterns, dwellings, barns, outbuildings, fences, and transportation networks–and how they changed. He demonstrates that the transformation of this rural landscape was a dynamic process, a complex interaction between tradition and innovation, driven by people's shifting expectations about material life.
Garrison's carefully researched, narrative study begins with the lives of individual inhabitants and from them generates a larger picture. Who lived in Franklin County, what they thought and wrote about, what choices they made and what principles they lived by, what buildings and crops they raised and with what tools and methods, how they organized their homes, family life, farms, and workspaces, what they did with their leisure time, how they spent their money or manifested their social status–these are the topics of his investigation. His study provides insight into the changing values that accompanied the transition from an agrarian to an industrial society and raises questions about the nature of tradition and the character of American "folklife."
The Author: J. Ritchie Garrison is associate director of the Museum Studies Program and assistant professor of history at the University of Delaware.