King Cottons Advocate
Oscar G. Johnston and the New Deal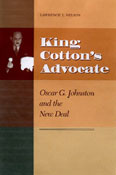 Author(s): Nelson, Lawrence J.
Series:
Imprint: Univ Tennessee Press
Publication Date: 1999-02-22
Status: Active
Available in Hardcover - Cloth: Price $38.00 | Buy Now
One of the largest cotton planters in the United States, Oscar G. Johnston of Mississippi (1880–1955) became King Cotton's most effective advocate during the New Deal era. In this biography, Lawrence J. Nelson explores Johnston's long career and the critical role he played in shaping public policy toward a vital but depressed industry.
In 1927, the year of the Great Mississippi River Flood, Johnston became president of the largely British-owned Delta and Pine Land Company of Mississippi, a mammoth plantation that encompassed some 38,000 acres and employed thousands of black sharecroppers. During the Great Depression, Johnston helped formulate Agricultural Adjustment Administration (AAA) loans, assisted in organizing the Commodity Credit Corporation, and traveled abroad for President Franklin Roosevelt to seek international cotton stabilization. He also developed and managed the federal Cotton Pool, which, in the mid-1930s, dispensed nearly two million bales of cotton at a profit to its farmer-members. Johnston's activities embroiled him in various controversies—over huge subsidies to his plantations, over the infamous "Section 7" debate that led to the so-called "purge" of AAA liberals in 1935, over the question of how best to limit cotton production, and, during World War II, over the collectivising efforts efforts of the Farm Security Administration. By then, Johnston had abandoned New Deal solutions and successfully organized the National Cotton Council of America, which united an industry threatened by low prices, internal division, and loss of exports.
A revisionist work, King Cotton's Advocate in the New Deal challenges the monochromatic, demonized image of the southern planter in the twentieth century. Nelson portrays a successful businessman who ran a highly efficient, welfare-capitalist plantation that, by the time of Johnston's retirement in 1950, exemplified the transformation of the old mule-and-sharecrop system into a capital-intensive, mechanized agribusiness.
The Author: Lawrence J. Nelson is professor of history at the University of North Alabama. His articles have appeared in the Journal of Southern History, Agricultural History, Missouri Historical Review, Alabama Review, Tennessee Historical Quarterly, and other publications.