Joseph W. Byrns of Tennessee
A Political Biography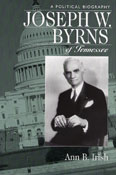 Author(s): Irish, Ann B.
Series:
Imprint: Univ Tennessee Press
Publication Date: 2001-09-28
Status: Active
Available in Hardcover - Cloth: Price $30.00 | Buy Now
"Through painstaking research in archives across the nation, Ann Irish has produced an illuminating portrait of one of modern Tennessee's most significant, but least appreciated, public figures."—Carroll Van West, Middle Tennessee State University
"A thoroughly researched and gracefully written account of the man who served as Speaker of the U.S. House of Representatives during the critically important Second New Deal period. This book will be of interest to students of Tennessee political history as well as scholars of reform in the twentieth-century United States."—Roger Biles, East Carolina University
During a congressional career that lasted nearly three decades, Joseph W. Byrns (1869–1936) exercised significant influence in Washington. He served as chairman of both the Democratic Congressional Campaign Committee and the House Appropriations Committee before becoming Speaker of the House in 1935. In this first full-length biography, Ann B. Irish explores Byrnes's life and career, detailing his achievements and assessing their impact.
After serving in the Tennessee General Assembly from 1895 to 1901, Byrns was elected to Congress in 1909. He was involved in tariff issues, World War I expenditures, economic development of impoverished areas, and farm policy. As a longtime senior Democrat on the Appropriations Committee, he played a major role in creating the first budget system for the United States government. Ever responsive to the needs of his constituents, Byrns strove during the Depression years for two urgent but somewhat contradictory goals: a balanced budget and relief for the needy. In 1932, he was instrumental in defeating a proposed federal sales tax.
During Franklin D. Roosevelt's first term, Byrns was House Majority Leader for two years, then Speaker. As a moderate southern Democrat, he privately questioned some of Roosevelt's programs but nevertheless embraced the New Deal out of party loyalty. He introduced the bill creating the Civilian Conservation Corps and successfully maneuvered other major New Deal initiatives through Congress. His sudden death in 1936 cut short his career at the very point when he was most influential.
Drawing on extensive and meticulous research, Irish shows how Byrns's political skills as well his reputation for fairness and consideration helped propel him into the House leadership. Her biography of this long-neglected figure will prove a valuable addition to the political history of both Tennessee and the nation.
The Author: A retired high school teacher and distant relative of Joseph Byrns, Ann B. Irish holds a doctorate in history from the University of Washington. She lives on Vashon Island, Washington.