John Dooley's Civil War
An Irish American's Journey in the First Virginia Infantry Regiment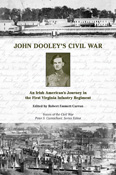 Among the finer soldier-diarists of the Civil War, John Edward Dooley first came to the attention of readers when an edition of his wartime journal, edited by Joseph Durkin, was published in 1945. That book, John Dooley, Confederate Soldier, became a widely used resource for historians, who frequently tapped Dooley's vivid accounts of Second Bull Run, Antietam, and Gettysburg, where he was wounded during Pickett's Charge and subsequently captured.
As it happens, the 1945 edition is actually a much-truncated version of Dooley's original journal that fails to capture the full scope of his wartime experience—the oscillating rhythm of life on the campaign trail, in camp, in Union prisons, and on parole. Nor does it recognize how Dooley, the son of a successful Irish-born Richmond businessman, used his reminiscences as a testament to the Lost Cause. John Dooley's Civil War gives us, for the first time, a comprehensive version of Dooley's "war notes," which editor Robert Emmett Curran has reassembled from seven different manuscripts and meticulously annotated. The notes were created as diaries that recorded Dooley's service as an officer in the famed First Virginia Regiment along with his twenty months as a prisoner of war. After the war, they were expanded and recast years later as Dooley, then studying for the Catholic priesthood, reflected on the war and its aftermath. As Curran points out, Dooley's reworking of his writings was shaped in large part by his ethnic heritage and the connections he drew between the aspirations of the Irish and those of the white South.
In addition to the war notes, the book includes a prewar essay that Dooley wrote in defense of secession and an extended poem he penned in 1870 on what he perceived as the evils of Reconstruction. The result is a remarkable picture not only of how one articulate southerner endured the hardships of war and imprisonment, but also of how he positioned his own experience within the tragic myth of valor, sacrifice, and crushed dreams of independence that former Confederates fashioned in the postwar era.