John C. Brown of Tennessee
Rebel, Redeemer, and Railroader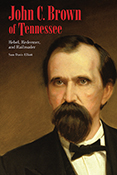 "Sam Davis Elliott has written a needed and thorough biography of Tennessean John C. Brown, an important but often forgotten figure of the Civil War era. As a general in the Army of Tennessee, probable leader of the Ku Klux Klan, governor of Tennessee and railroad executive, Brown was directly involved in many of the most vital issues of his time and helped shape the future of not just Tennessee, but the nation."—Andrew L. Slap, author of Doom of Reconstruction: The Liberal Republicans of the Civil War Era
John Calvin Brown was a Confederate general, Tennessee politician, railroad executive, and lawyer, and yet he is little known to today's Americans. He left behind few personal papers and died relatively young despite his remarkably productive life, leaving his voice silent while historical debate raged over events in which he was a significant player.
John C. Brown of Tennessee is the first full-scale biography of this understudied figure. Author Sam Davis Elliott's comprehensive research reveals how Brown rose to the rank of general in the Confederate Army of Tennessee.   A five-time wounded veteran of nearly every one of the army's battles from Fort Donelson to Franklin, Brown played a unique utility role as a division commander in the 1864 Atlanta Campaign.  There is a substantial likelihood he was an early leader of the Ku Klux Klan after the war, but more well-established is his role as leader in the anti-Brownlow movement that sought to end Radical Reconstruction in Tennessee. He was selected president of the 1870 constitutional convention, which helped lead to his election as governor later that year. After his tumultuous time as governor seeking to resolve economic conflicts that began before the Civil War, he became a railroad executive and industrialist. He had a significant role in the struggle between rival financiers for control of the southern route to the Pacific, and was in the front lines of management on behalf of the Texas and Pacific Railroad during the Great Southwest Railroad Strike of 1886. His wide-ranging and successful career reflects not only the attributes of Brown's character, but provides insight into many key events of nineteenth-century America.
John C. Brown of Tennessee fills not only a biographical but a historiographical gap in the literature on the Civil War and Reconstruction in Tennessee and the post-Confederate South.
Sam Davis Elliott is a practicing attorney in Chattanooga. He is the author of Isham G. Harris of Tennessee and Soldier of Tennessee: General Alexander P. Stewart and the Civil War in the West, and the editor of Doctor Quintard, Chaplain C.S.A. and Second Bishop of Tennessee.