John Bell Hood and the Fight for Civil War Memory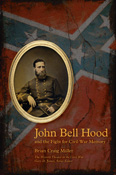 "Previous biographers have poorly understood Hood within the culture of his times, but Miller's study is a refreshing look at this important theme. Relying on the perspective of memory studies and the experience of amputees, he adds new dimensions to our understanding of Hood and the Civil War."—Earl J. Hess, author of In the Trenches at Petersburg: Field Fortifications and Confederate Defeat
"Miller is particularly strong on the cultivation of Hood's legend as part of the Lost Cause narrative. . . . He has done nice work in areas previously neglected, offering the first new research on Hood to emerge in years."—David Coffey, author of John Bell Hood and the Struggle for Atlanta
Some Southern generals, like Lee and Jackson, have stood the test of time, celebrated in their place in history. And then there are generals like John Bell Hood, reviled and ridiculed by generations of Civil War historians as one of the inglorious architects of the Confederate disgrace in the Western Theater. The time has come to rethink this long-held notion, argues Brian Miller, in his comprehensive new biography, John Bell Hood and the Fight for Civil War Memory, and to reassess John Bell Hood as a man, a myth, and a memory.
In this first biography of the general in more than twenty years, Miller offers a new, original perspective, directly challenging those historians who have pointed to Hood's perceived personality flaws, his alleged abuse of painkillers, and other unsubstantiated claims as proof of his incompetence as a military leader. This book takes into account Hood's entire life—as a student at West Point, his meteoric rise and fall as a soldier and Civil War commander, and his career as a successful postwar businessman. In many ways, Hood represents a typical southern man, consumed by personal and societal definitions of manhood that were threatened by amputation and preserved and reconstructed by Civil War memory. Miller consults an extensive variety of sources, explaining not only what Hood did but also the environment in which he lived and how it affected him.
What emerges is a more nuanced, balanced portrait, unfettered by the one-sided perceptions of previous historical narratives. It gives Hood the fair treatment he has been denied for far too long. By looking at Hood's formative years, his wartime experiences, and his postwar struggles to preserve his good name, this book opens up a provocative new perspective on the life of this controversial figure.
Brian Craig Miller is an assistant professor of history at Emporia State University. He is the author of The American Memory: Americans and Their History in 1877.