Joel Barlow's Columbiad
A Bicentennial Reading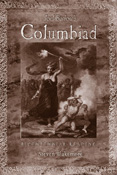 Author(s): Blakemore, Steven
Series:
Imprint: Univ Tennessee Press
Publication Date: 2007-06-01
Status: Active
Available in Hardcover - Cloth: Price $45.00 | Buy Now
The year 2007 marks the two-hundredth anniversary since Joel Barlow, an American poet and diplomat, first published his controversial and lengthy poem, The Columbiad. Grandiose in its ambition, Barlow framed the poem as an epic for the New World, a nationalist primer to teach republican citizens the history of the relatively new nation culminating in the American Revolution and the promise of a future utopia stimulated by the United States' republican ideas and institutions.
Unfortunately, history has not been kind to Barlow's work. Literary critics have long dismissed it for its obscure references and allusions to historical and mythic events, to individuals and characters that a select few would know or care about. Indeed, as Joseph Buckminister, an acquaintance of Barlow, noted, "[This poem] requires an amazing universal knowledge . . . . A man must be not only a poet and a man of letters, but a lawyer, politician, physician, divine, chemist, natural historian, and adept in all the fine arts."
But this work does matter, argues Steven Blakemore, and Joel Barlow's Columbiad is the first full-length study of poem. Blakemore shows that Barlow crafted a historically relevant New World epic- a literary foundation myth for America as ambitious as those created by Homer and Virgil for Greece and Rome-an epic that is the most significant American narrative poem of the nineteenth century.
Blakemore offers a close reading of The Columbiad within the context of contemporary national debates over the significance of America. In doing so, he helps the reader understand the variety of national discourses that Barlow was promoting, challenging, or subverting. Long neglected, The Columbiad fundamentally engages the core issues and strategies of national self-definition and the creation of a vital republican culture. This book will appeal to all those interested in early American literature, the literature of the early Republic, and American literary nationalism.
Steven Blakemore is associate professor of English at Florida Atlantic University. He has published on a variety of topics in English and American literature and is the author of three recent books dealing with the Anglo-American debate on the French Revolution.