Jean Toomer
Selected Essays and Literary Criticism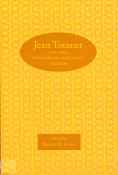 Author(s): Jones, Robert B.
Series:
Imprint: Univ Tennessee Press
Publication Date: 2006-10-01
Status: Active
Available in Paper: Price $17.95 | Buy Now
"[This book] is what scholars of American and African American literature have needed for quite some time. Robert B. Jones's selection of materials is excellent, and their expert ordering reveals the breadth and evolution of Jean Toomer's thought over several decades. This collection will considerably enlarge our understanding of the author whose reputation remains tied, in large part, to Cane."—Rudolph P. Byrd, Emory University
A major contribution to the current reappraisal of Jean Toomer's place within American literary and intellectual culture, this book brings together more than twenty pieces written by Toomer between 1921 and 1945. Most are published here for the first time.
Toomer (1894–1967) is still best remembered as the author of Cane (1923), an amalgam of short stories, poetry, and drama focusing on the lives of African Americans; it is a masterful work that led many scholars to group Toomer with the figures of the Harlem Renaissance. Yet, as Robert B. Jones points out, Toomer's subsequent writings suggest a keen affinity with the writers of the Lost Generation. What those writers shared—most notably a rejection, in the wake of the World War I, of received American values—resonated strongly with Toomer, and like Hart Crane and others, Toomer turned to mysticism and philosophy as a way of countering the materialism of the age. Such concerns are evident throughout this eloquent volume.
Included here are works of literary criticism on writers such as Waldo Frank, Eugene O'Neill, Zona Gale, and Kenneth Burke, as well as essays on race relations, Quaker religious thought, and Toomer's special fascination with the work and philosophy of G. I. Gurdjieff. "In sum," Jones observes, "these essays provide elucidating glimpses into the literary and cultural climate of the 1920s, into the mind of Jean Toomer, and into the history of the American experience."
The Editor: Robert B. Jones, who died in 1994, was an associate professor of literature at the University of Wisconsin, Milwaukee. His previous books include Critical Essays on Jean Toomer, The Collected Poems of Jean Toomer, and Jean Toomer and the Prison-House Thought.