James Agee
Reconsiderations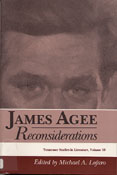 Author(s): Lofaro, Michael A.
Series: Tenn Studies Literature
Imprint: Univ Tennessee Press
Publication Date: 1995-03-28
Status: Active
Available in Paper: Price $17.00 | Buy Now
The essayists in this volume argue that far more recognition is due to James Agee than is usually granted. Although the significance of his accomplishments is often overshadowed by his short, turbulent, life, any reevaluation of his work must still begin with the man himself. Agee's complex and driven life seems to crystallize the debate over the relationship between art and reality in the modern age.
Continually exploring new fields, Agee achieved success as a poet, journalist, and essayist, as well as a writer of screenplays and fiction. Agee's sense of place, ingrained in him during his boyhood in Knoxville, Tennessee, provided the ground upon which he tested the temper of his creative process and his beliefs and attempted to reconcile the Romantic and Modern viewpoints into what he termed a "whole of consciousness."
But the price of attempting transcendence was high. At times Agee ravaged his own life in a quest to dissolve the barrier between reality and art; at other times, his gusto and vitality were converted into unique and innovative works like the audacious and uncategorizable Let Us Now Praise Famous Men and the highly charged autobiographical novel A Death in the Family. The essays in this volume, drawn in part from the 1989 "Agee Legacy" symposium, focus upon these two major works and upon Agee's explorations of narrative technique. The authors demonstrate that the measure of Agee's success is in large part the direct result of his supposed flaws: his variety of subject and form, and his life of often reckless abandon.
The Editor: Michael A. Lofaro is director of graduate studies and professor of English at the University of Tennessee, Knoxville.