Iris Murdoch Connected
Critical Essays on Her Fiction and Philosophy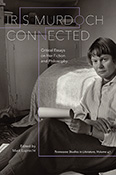 Author(s): Luprecht, Mark
Series: Tenn Studies Literature
Imprint: Univ Tennessee Press
Publication Date: 2014-11-26
Status: Active
Available in Hardcover - Cloth: Price $60.00 | Buy Now
This volume compiles twelve essays that reflect the surging interest in the Irish-born author Iris Murdoch as both a writer and philosopher. Beyond her impressive body of philosophical works, Murdoch produced twenty-six novels, several plays, and numerous poems, short stories, and essays during her multifaceted career. The prolific novelist-philosopher has drawn attention from scholars in multiple disciplines, which reflects her range of interests as well as the accessibility of her work from varied perspectives.
The first part of the collection focuses on Murdoch's literary works and approach to art. Frances White's opening essay examines the influence of Virginia Woolf on Murdoch, while Elaine Morley deals with attention and "unselfing" in the writer's works. Much can be learned from Murdoch's letters, as Miles Leeson and Anne Rowe demonstrate in their respective contributions. David James explores Murdoch's influence on fellow Irish writer John Banville. Finally, Pamela Osborn and Rivka Isaacson offer vastly different perspectives on Murdoch's fourth novel, The Bell, in the two essays that round out the literature-centric half of the collection.
Part two highlights concepts in and approaches to Murdoch's philosophical thought. Tony Milligan writes of the meanings of puritanism and truthfulness in Murdoch's philosophical writings and essays and in her novel A Fairly Honourable Defeat. Julián Jiménez Heffernan's contribution centers on Murdoch's confrontation with the notion of contingency. Using the philosophical lens of metaxu, Kate Larson suggests a new approach to Murdoch's thought by looking at it in relation to that of Simone Weil. Paul Martens locates the similarities of structure in Murdoch's The Black Prince and Søren Kierkegaard's Fear and Trembling. Lastly, Matthew Martinuk delves into the affinity of thought between Charles Taylor and Murdoch.
By examining both Murdoch's influences and those she has influenced, Iris Murdoch Connected constructs complex new understandings of this formidable writer's vast contributions to literature and philosophy.
Mark Luprecht is an English professor at the University of Tennessee. He is also the author of Of Angels, Things, and Death: Paul Klee's Last Painting in Context.