In the Vineyard
Working in African American Studies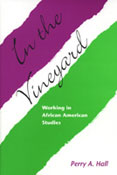 Author(s): Hall, Perry A.
Series:
Imprint: Univ Tennessee Press
Publication Date: 2004-11-10
Status: Active
Available in Paper: Price $29.95 | Buy Now
"This book is unprecedented in the field in its approach and content. . . . A  must for the serious student in African American studies."—Delores P. Aldridge, Emory University
The emergence of African American studies in the 1970s filled a critical gap in higher education. Now a prominent scholar who has helped to define the contours of that field integrates personal reflection with an analysis of its development to recount the political, cultural, and intellectual issues that helped shape the discipline.
A participant in the Black Student Movement in its early years, Perry A. Hall provides an insider's look at the struggle to persuade academia to accept the mission of Black Studies and the struggle inside the movement to define its objectives. He examines how the discipline evolved within the context of the wider social revolution changing the face of America, showing how the presence of blacks on campuses brought about the need for new perspectives in college curricula. And because African American Studies today represents a variety of approaches, he examines how they evolved and how they interact both within the field and with other areas of knowledge.
Hall critiques the popular "Afrocentric" approach in African American Studies, arguing that it is not synonymous with the discipline overall. He develops an alternative "transformationist" paradigm that builds on the idea of double-consciousness advanced by W. E. B. Du Bois and shows how it can be used to sort out conceptions of black identity that have emerged from sociology and psychology. He explores the importance of vernacular culture—especially popular music—in creating unique frames of reference for African Americans and also applies his paradigm to education and public policy analysis.
An important intellectual autobiography, Hall's work shows how insights gleaned over thirty years can be applied in the vineyards of academia today. Its message speaks clearly to scholars of his own generation and today's, and shows how African American Studies can continue to be relevant in the next century.
The Author: Perry A. Hall is associate professor of African and Afro-American Studies at the University of North Carolina–Chapel Hill and a former member of the executive board of the National Council for Black Studies. His articles have appeared in Western Journal of Black Studies, Word: A Black Culture Journal, Journal of Negro Education, and the Black Studies Handbook.