Images of the New Jerusalem
Latter Day Saint Faction Interpretations of Independence, Missouri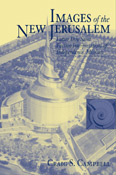 Author(s): Campbell, Craig S.
Series:
Imprint: Univ Tennessee Press
Publication Date: 2004-01-25
Status: Active
Available in Hardcover - Cloth: Price $42.00 | Buy Now
The Kansas City suburb of Independence, Missouri, is associated primarily with its most famous son, President Harry Truman. Yet Independence is also home to a unique and complex religious landscape regarded as sacred space by hundreds of thousands of people associated with the Latter Day Saint family of churches. In 1831 Joseph Smith, the founder of the Latter Day Saint (LDS) movement, declared Independence the site of the New Jerusalem, where followers would build a sacred city, the center of Zion. Smith prophesied that Jesus Christ would return in millennial and glorious advent to Independence, an act that would make the city an American counterpart to old world Jerusalem.
Smith's plan would have mixed the best qualities of nineteenth-century American pastoral and urban psyche. However, the great splintering among returning Latter Day Saint groups has led to divergent beliefs and multiple interpretations of millennial place. Images of the New Jerusalem culls viewpoints from publications and interviews and contrasts them with official church doctrines and mapped land holdings. For example, with a desire to attract mainstream American, the Western LDS Church, which holds the largest amount of land in northwestern Missouri, keeps fairly silent on the New Jerusalem, while the RLDS Church (now the Community of Christ) has dropped millennial claims gradually, adopting a liberal secular style of pseudo-Protestantism. Smaller groups, independent of these two, see sacred space in more spatially and doctrinally limited ways.
The religious ecology among Latter Day Saint churches allows each group its place in the public spotlight, and a number of sociopolitical mechanisms reduce conflict among them. Nonetheless, Independence has developed many traits of the world's most seasoned and conflicted sacred places over a relatively short time. This book opens the field of scholarship on this region, where profound spatial and doctrinal variation continues.
Craig S. Campbell is professor of geography at Youngstown State University. He has published articles in Journal of Cultural Geography, Cartographica, The Professional Geographer, Political Geography, and other journals.