Homewords
A Book of Tennessee Writers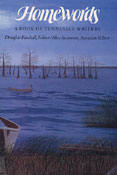 Author(s): Paschall, Douglas
Series:
Imprint: Univ Tennessee Press
Publication Date: 1986-06-30
Status: Active
Available in Hardcover - Cloth: Price $35.00 | Buy Now
Published under the auspices of the Tennessee Arts Commission to celebrate "Homecoming '86," Homewords is a unique anthology of the familiar and the new in Tennessee Literature. The anthology includes some eighty literary works from more than sixty living writers who call Tennessee actually of imaginatively home. The prose and poetry selections reflect each writer's sense of place, his or her home ground, its landscape and communities, its peoples and their modes of life, both past and present.
Readers will find here new works by well-known authors and unknown works by new writers. Favorite authors like Robert Penn Warren, Peter Taylor, Shelby Foote, Madison Jones, Alex Haley, Wilma Dykeman, Cormac McCarthy, Nikki Giovanni, Charles Wright, and Ishmael Reed are represented here by previously published or heretofore unpublished work. Considerably more than half the selections were chosen from submissions to an open competition and therefore represent a wide range of Tennessee writers, many of whom have published little and have not yet received recognition.
While affirming the state's rich literary heritage, Homewords also discovers Tennessee's literary future in the new, young writers who will both carry on the tradition and break new ground in their homeland.
Douglas Paschall is a professor of English at The University of the South in Sewanee, Tennessee.
Alice Swanson is the director of Literary Arts at the Tennessee Arts Commission.