Highway 61
Heart of the Delta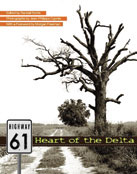 Author(s): Norris, Randall, and Jean-Philippe Cyprés
Series:
Imprint: Univ Tennessee Press
Publication Date: 2008-03-30
Status: Active
Available in Hardcover - Cloth: Price $36.95 | Buy Now
Highway 61: Heart of the Delta celebrates the Mississippi Delta in words and pictures.  Edited by Randall Norris with photographs by award-winning photographer Jean Philippe Cyprés, this volume brings to life this storied region of the South. Actor Morgan Freeman provides a foreword in which he recounts his personal history as a child in the Delta and discusses why he was pulled back to his ancestral home, despite its challenges.
This book brings together essays by noted Delta writers and scholars, interviews with Delta residents from all walks of life, and vivid photographs that document the region. The essay writers touch on a variety of themes from cultural landmarks to racial issues to the struggle for Civil Rights, providing the reader with a guide to important themes of the area's history and culture.
The section "Voices of the Delta" includes interviews with nearly thirty people of different ethnicities and social classes who share their knowledge of the past and their hopes for the future. Their stories remind the reader that the Delta is not stuck in a particular time or place in which bad memories, history, and dark images forever hold residents captive. Instead, the region is populated by dynamic men and women whose individual voices, when combined, reveal a powerful force for positive change.
Jean Philippe Cyprés's lens captures the people, places, and spirit of the Delta.  There are photos of the smiling doormen who escorts the ducks on their afternoon stroll through the lobby of the Peabody Hotel in Memphis; the neon-encrusted, twenty-story casino rising high above Tunica; the burial place of Sonny Boy Williamson, which has become a memorial to the legendary harmonica player; the mansions of Vicksburg; a group of World War II veterans at the town's V.F.W. club; and many more fresh, compelling images.
Through text and photos, Highway 61 reveals the living, beating, ever-changing heart of the Mississippi Delta.
Randall Norris is a professor of English and American culture studies at Sauk Valley Community College in Dixon, Illinois. He is the author of Women of Coal.  With Jean Philippe Cyprés, he developed a traveling exhibit of text and images on the Mississippi Delta under the auspices of the Mississippi Humanities Council and the Phil Hardin Foundation.
Jean-Philippe Cyprés is an award-winning photographer originally from Paris, France, where he studied with internationally known photographer Cees De Hand. He has been living in Knoxville, Tennessee, for over twenty years, where he maintains a studio that produces portraits for actors, models and performers. His work has appeared in Vogue Paris, Rolling Stone Paris and numerous magazine publications in the USA. His striking images in both Women of Coal and this book not only capture his subjects' pain and struggle, but their dignity as well. He has produced photo-essays in France, Holland, Greece, the Ivory Coast, and Thailand. Jean-Philippe is also an accomplished harmonica player which led him to take a strong interest in the Delta region.