Great Things Are Expected of Us
The Letters of Colonel C. Irvine Walker, 10th South Carolina Infantry, C.S.A.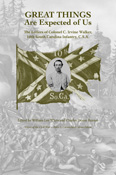 Author(s): White, William Lee, and Charles Denny Runion, eds.
Series: Voices of the Civil War
Imprint: Univ Tennessee Press
Publication Date: 2009-04-25
Status: Active
Available in Hardcover - Cloth: Price $35.95 | Buy Now
Great Things Are Expected of Us is a fascinating collection of letters written by Lt. Col. Irvine Walker to his fiancé as he fought for the Confederacy in the Civil War's Western Theater from May 1862 until April 1865. This correspondence offers candid, revealing insights into the mind of a man whose devotion to the Southern cause was matched only by his desire to maintain the status befitting his high station in society.
A South Carolinian who fought in the Army of Tennessee, Walker was a quintessential representative of what historian Peter Carmichael has described as the "last generation of the Old South." Walker viewed his participation in the war as the perfect opportunity to live up to the idealized sense of manhood championed by the men of his class and to defend its way of life.
Not only do the letters provide firsthand accounts of the military campaigns in which Walker participated, they also show the war from a uniquely human perspective. Writing with passion and literary verve, the young officer was refreshingly open yet careful to present himself and his fellow soldiers in a positive way. He was quick to defend his friends, but he could be scathing in his criticism of others. Of particular interest is his defense of General Braxton Bragg, a commander whom many have maligned but whom Walker greatly admired.
Making these letters even more fascinating are the postwar corrections and commentary that Walker added when he had his letters transcribed decades after the conflict. Also included is an appendix containing Walker's accounts of his participation in the battles of Franklin and Nashville. These various elements, along with the editors' introduction and annotations, make Great Things Are Expected of Us a significant contribution to the Voices of the Civil War series and to our understanding of the Confederate elites and the war in the West.
William Lee White is a park ranger at Chickamauga-Chattanooga National Military Park.
Charles Denny Runion is the owner of Better Insurance Schools in Atlanta.